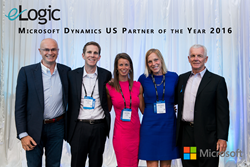 By leveraging the full power of Microsoft's Cloud Productivity Platform...we are building intelligent, connected experiences across manufacturers & channel partners. - Kris Shields, eLogic President
Rochester, NY (PRWEB) July 20, 2016
eLogic, a technology consulting firm specializing in business transformation solutions for manufacturers, was named The 2016 Worldwide Microsoft Dynamics Partner of the Year for the U.S. during Microsoft's Worldwide Partner Conference (WPC) on July 11, 2016 in Toronto, Canada.
The award criteria centered on eLogic's demonstrated excellence in innovation, commitment to their vision to enable manufacturers to perform and engage better with their customers, dedication to delivering business solutions based on the latest Microsoft technologies, staggeringly impressive customer satisfaction ratings, and sustained 60% multi-year over year growth.
"The 2016 Partner of the Year Award winners and finalists represent the most innovative and transformative work being done across our partner community," said Gavriella Schuster, GM, Microsoft. "It is important to recognize and celebrate the value and opportunity these solutions create for our mutual customers." The award finalists and winners were selected from more than 2,500 nominations collected from 119 different countries worldwide.
"eLogic's ability to achieve our ultimate vision of changing how manufacturers engage with their customers is only feasible with the technology investments Microsoft is driving forward. By leveraging the full power of Microsoft's Cloud Productivity Platform and all of the related customer engagement, collaboration, and knowledge deployment enablers, we are building intelligent, connected experiences across manufacturers, channel partners, and end customers. This leads to increased sales and higher productivity for our customers. The entire eLogic team contributes to this achievement, and we are thankful to Microsoft for this fantastic recognition of our success," said Kris Shields, eLogic President.
About eLogic.
eLogic is a technology consulting firm specializing in business transformation solutions for manufacturers. Leveraging the Microsoft and SAP technology platforms, eLogic provides high value solutions and services including: Seamless Customer Engagement, Business Intelligence, Enterprise Integration, CPQ & Knowledge Deployment, Collaboration & Productivity, Predictive Analytics & IoT, Strategy & Assessment, and Customer & Field Service. Deep vertical specializations include industrial equipment, process machinery, capital equipment, high-tech, and medical devices & technology.
Additional recent eLogic awards include:
Microsoft Dynamics Inner Circle 2016 Achievement – Inner Circle represents an elite group of Microsoft Dynamics most strategic partners from across the globe.
2015 Manufacturing Partner of the Year, Microsoft Dynamics CRM – This award recognized eLogic's commitment to provide its manufacturing customers with the highest level of technology-enabled solutions through industry-specific IP.