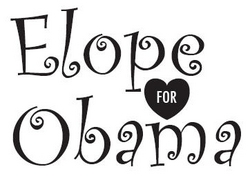 Portland, Ore. (PRWEB) October 2, 2008
Portland's Brooks Hill Historic Church, one of the area's most popular wedding chapels, is inviting couples to vote with their hearts this month by eloping for Obama. For October weddings, Brooks Hill is offering couples the option of donating 100 percent of all wedding package proceeds directly to Sen. Barack Obama's presidential campaign campaign.
In a quote on his campaign Web site, Sen. Obama says, "I'm asking you to believe - not just in my ability to bring change in Washington - I am asking you to believe in yours." Now with this special wedding promotion, couples can change their lives while supporting Obama's campaign to transform this nation.
"Our country needs a new beginning, and I know that we will have it when Sen. Obama is inaugurated in January 2009," said Cindy Lou Banks, local musician and owner of the Brooks Hill Historic Church. "What better way is there for couples to support his election than eloping in October and forging their own new beginnings?"
Brooks Hill offers a number of wedding packages, ranging in price from $395 to $895, depending on the length of the event and number of guests. All packages include chapel rental, candelabras, piano, stereo and, of course, a unity candle. Several local ministers have volunteered their time to perform ceremonies.
Perched on a hill overlooking Portland's west valley, the Brooks Hill Historic Church is an intimate, historic chapel. Built in 1931, the church served the local Skyline community for more than 70 years as the Brooks Hill Free Methodist Church. The church was the gathering place for the local families who founded and farmed this stunning area of Portland, settled by Swiss, German and Russian immigrants. Purchased in 2005 by Banks, the chapel underwent a complete restoration and hosts many musical events and wedding celebrations.
To book a wedding, send an email to staff@brookshill.com or call 503-629-9700, or for more information, go to http://www.brookshill.com.
###