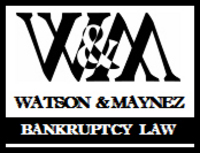 El Paso, TX (PRWEB) March 29, 2008
Attorneys Matt Watson and Omar Maynez have teamed up to establish a law firm with a unique package of services. By focusing on two main fields of law- El Paso probate and El Paso bankruptcy law, they serve their Texas community with two highly developed skill sets. If you've ever wondered what an El Paso bankruptcy lawyer and an El Paso probate attorney have in common, it is this: a genuine desire to serve the community where they practice.
Omar Maynez is joining Matt Watson, bringing his background in bankruptcy law, family law, immigration law, criminal defense and civil litigation to the table. When combined with Watson's focus on estate planning and probate, as well as family law and consumer bankruptcy, a comprehensive firm was created- ready and able to deal with each client's financial needs, with an special interest in assisting the aging population.
Greedy, profit-driven lawyers abound, it is important to remember that there are still good attorneys out there who are willing to fight for the rights of individuals. Watson & Maynez, P.C. is doing just that- representing individuals who face bankruptcy alone, never the creditors seeking to collect. While most desire for probate- the process of handling the estate of the deceased- to go smoothly, Maynez's civil litigation experience ensures that should worse come to worst, this firm is ready to provide a strong advocate for the client.
Watson & Maynez, P.C. provides its community with professional El Paso bankruptcy chapter 7 & chapter 13 and El Paso probate needs. A federally designated debt relief agency, they work with people facing bankruptcy, foreclosure and repossession. In their estate planning and El Paso trusts and wills work, they are willing to fight hard for their clients who face even the most sensitive matters. These highly skilled attorneys have formed an alliance that can handle your financial needs in a far more comprehensive manner than either could have achieved alone.
For more information, contact Watson and Maynez at 915-532-7526
For El Paso Bankruptcy visit http://www.bankruptcy4elpaso.com
For El Paso Probate visit http://www.elpasowillsprobate.com
# # #