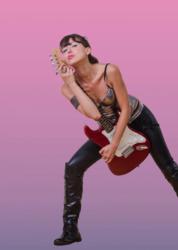 It was a strong feeling, and feelings are chemical reactions in our body.
Sayre, PA (PRWEB) January 10, 2013
Singer songwriter Elvira Kalnik, an up and coming European crossover artist, has recently announced her 2013 music plans that will be featuring new people, new inspirations and new sounds. With her latest electronic project initiatives, fans of Elvira Kalnik will get to listen to two new singles, plus her album 'Magical Child' which is expected to be released this spring.
Inspired by the latest new-age European sound, Elvira Kalnik has created and released an instrumental dance music single entitled 'Chemical Reaction' featuring the bold electronic sounds of the trendy new genre dubstep. Dubstep is becoming one of the most popular styles of music that can be heard today across college campuses and all the hottest clubs. And like every other single Elvira Kalnik has created, the title and meaning behind the song is very personal.
"Several events occurred that gave me strong feelings. One of them was Hurricane Sandy and thinking of the people who didn't make it through the storm and people who were left without homes or lost their dearest loved ones," says Elvira Kalnik. "I was lucky to have a fire place and full tank of gas, so I could drive around and bring food to those who were in need. It was a strong feeling, and feelings are chemical reactions in our body."
Coming in the spring of 2013, Elvira Kalnik is expecting to release her highly anticipated album, "Magical Child," featuring her hit single, "I Wish to Practice Me." According to Elvira, the album contains 10 songs, with the possibility of two added bonus songs Elvira is currently working on.
Also expected to release in the spring of 2013, Elvira Kalnik has partnered with the popular alternative hip hop artist, Deedub to release a song currently in the works. The song will be a hip hop song with the music created by Elvira Kalnik, and lyrics written by Deedub who was named "Hip Hop Artist of the Year 2011" by the 21st Los Angeles Music Awards and "Best Hip Hop/Rap Artist 2012" by the Artist In Music Awards.
To listen to Elvira Kalnik's new single 'Chemical Reaction' visit http://www.cdbaby.com/cd/elvirakalnik
About Elvira Kalnik
Singer songwriter Elvira Kalnik is a European crossover artist who sings a variety of musical styles including contemporary pop, jungle, electronic music with an operatic quality, and gentle rock. Born in the Ukraine, Elvira has received high music and vocal education in both Ukraine and Germany. She started writing songs since the age of 14 and produced her first album when she was 15 years old. Her breakout album, Peachy Pink, is a mixture of melodic styles with the lyrics written by her husband. Her next album, Magical Child, is expected to release spring 2013.