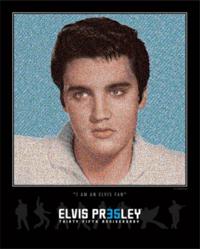 "The Elvis Fan Mosaic is a creative and lasting way for Elvis' fans to declare to the world, "I am an Elvis fan." - Scott Williams, Vice President of Marketing & Public Relations for Elvis Presley Enterprises, Inc.
Northfield, Ohio (PRWEB) May 01, 2012
Fan Mosaics is offering Elvis Presley fans a unique opportunity to get close to the rock 'n' roll icon. As part of the 35th anniversary celebration, Fan Mosaics, along with Elvis Presley Enterprises, Inc., are creating an official Elvis photo mosaic built entirely from fan-submitted photos.
"We're so excited to help commemorate the 35th anniversary of the life and legacy of Elvis Presley," says Rob Hixenbaugh, Fan Mosaics' director of fan & brand development. "The Elvis Presley Fan Mosaic, featuring a photo of the young king, will show the love Elvis fans have for this superstar."
Fans can submit their photos for inclusion in the photo mosaic by visiting FanMosaics.com/Elvis through June 1. The photos uploaded to the site will become the building blocks used to re-create the Elvis image.
The mosaic will be reproduced as a 24" x 30" collector's print, available for purchase through the Fan Mosaics website. It also will become the cover art for Legacy Recordings' upcoming Elvis CD "I AM AN ELVIS FAN: A Collection of Elvis Songs Chosen by the Fans" and a large mural that will be displayed at Elvis' home, Graceland, during Elvis Week 2012.
"We're thrilled to be partnering with Fan Mosaics for this year's celebration of Elvis' legacy," says Scott Williams, vice president of marketing and public relations for Elvis Presley Enterprises, Inc. "The Fan Mosaic is a creative and lasting way for Elvis' fans to declare to the world, 'I am an Elvis fan.'"
More information on this Elvis fan promotion, including other ways fans can declare their love of the king, is available at Elvis.com/ElvisFan.
About Fan Mosaics
Northfield, Ohio-based Fan Mosaics, LLC, is the bridge that connects fans and stars. The company's officially licensed celebrity photo mosaics—made up of fan-submitted images—are a unique and lasting outlet for fans' enthusiasm and loyalty. Entertainers in all industries choose Fan Mosaics to thank fans for their dedication, and charities partner with Fan Mosaics to raise funds for their worthwhile causes. Visit fanmosaics.com to view completed and current projects and to learn more about the Fan Mosaics creation process.
About Elvis Presley Enterprises, Inc.
Elvis Presley Enterprises, Inc. is based in Memphis, with additional offices in Los Angeles. In addition to Graceland and its related attractions in Memphis, including the Heartbreak Hotel, EPE is aggressively involved in a worldwide licensing program, merchandising, music publishing, and television, film, video and Internet projects. For more information on EPE and Graceland, visit elvis.com.