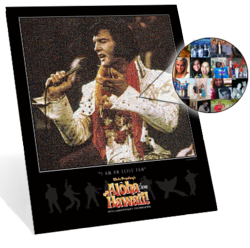 Northfield, OH (PRWEB) September 28, 2012
Forty years ago Elvis made history in a record-setting concert broadcast worldwide from beautiful Hawaii. Fan Mosaics and Elvis Presley Enterprises, Inc., are giving fans the chance to make Elvis history today by participating in the "Aloha from Hawaii" Elvis Fan Mosaic.
Featuring an image of the iconic singer and actor, this officially licensed photo mosaic will be built entirely from fan-submitted photos.
"The 'Aloha from Hawaii' Elvis Fan Mosaic is part of a week-long celebration of the concert's anniversary," says Kevin Kern, Director of Public Relations for Elvis Presley Enterprises, Inc. "Fans from around the world are gathering in Hawaii for the occasion for Elvis Presley's Aloha from Hawaii, the 40th Anniversary Celebration to be held Thursday, January 10 – Tuesday, January 15, 2013, at the Hilton Hawaiian Village Waikiki Beach Resort in Honolulu, and we'll be hanging a mural of this Elvis Fan Mosaic in the same venue where Elvis performed four decades ago. Even if Elvis fans can't make the trip in person, this is a great way for them to participate in the celebration."
Fans can upload their photo for inclusion for free at http://www.FanMosaics.com/ElvisAloha. They can also order a high-quality 24"x30" print of the mosaic so they can display it in their own homes. Fans can begin uploading their photos on Friday, Sept. 28 and continue through October 28. Fans can then come back November 5 to use an online search tool to enter their email address and find where their photo is located within the mosaic. The commemorative prints will begin shipping late November.
"We're so excited that murals of the mosaic will be hung in Hawaii as well as in Graceland, as part of this year's Elvis birthday celebration," says Rob Hixenbaugh, Fan Mosaics' director of fan & brand development. "We are proud to give his fans such a unique and memorable way to show their love for this remarkable performer."
About Fan Mosaics
Northfield, Ohio-based Fan Mosaics, LLC, is the bridge that connects fans and stars. The company's officially licensed celebrity photo mosaics—composed entirely of fan-submitted images—are a unique and lasting outlet for fans' enthusiasm and loyalty. Entertainers in all industries choose Fan Mosaics to thank fans for their dedication, and charities partner with Fan Mosaics to raise funds for their worthwhile causes. Visit http://www.fanmosaics.com to view completed and current projects and to learn more about the Fan Mosaics creation process.
About Elvis Presley Enterprises, Inc.
Elvis Presley Enterprises, Inc. (EPE), a division of CORE Media Group, Inc., is based in Memphis, with additional offices in Los Angeles. In addition to Graceland and its related attractions in Memphis, including the Heartbreak Hotel, EPE is aggressively involved in a worldwide licensing program, merchandising, music publishing, and television, film, video and Internet projects. For more information on EPE and Graceland, visit http://www.elvis.com.