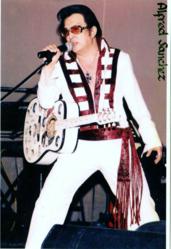 This should be a lot of fun coming to Mesquite. I'm really looking forward to it.
Mesquite, NV (PRWEB) June 14, 2011
By day, Alfred Sanchez handles office duties for Fox Rent A Car in Los Angeles. However, when the opportunity presents itself, the 57 year-old native of the Philippines is considered one of the top Elvis Tribute Artists in the nation.
Sanchez, the grand prize winner of the 2002 Be Elvis contest in the Philippines, is a premier Elvis Tribute Artist in Asia whose next performance will be during the second annual Elvis Rocks Mesquite competition at the CasaBlanca Resort June 23-26.
"I have been doing this for about 12 years," said Sanchez while on a short break from his day job. "Somebody discovered me while I was watching the Elvis Exhibits in the Philippines."
Sanchez's favorite Elvis song is "Jail House Rock." He competed in the Images of the King in Memphis in 2006.
"This should be a lot of fun coming to Mesquite," said Sanchez, a resident of Hawthorne, Calif. east of Los Angeles. "I'm really looking forward to it."
The inaugural Elvis Rocks Mesquite in 2010 drew about 40 entries and this year's event is expected to be bigger especially as more talent makes the trek from Las Vegas. Judy RiChard, who doubles as a real estate agent and president of All Shook Up N Vegas, said about ten performers from Las Vegas will be in Mesquite.
Interestingly, RiChard also said some of the competitors actually make their own clothes.
"Both Shane Paterson and Alfred make their own clothes," said RiChard, a native of Tyler, Minn., who has lived in Las Vegas since 1985. "They are very professional and care about the way they look. Alfred and Shane are among many good ETAs in our club that also includes Brett Burkhart, the vice president of All Shook Up; Don Rose whose son, Ryan, 8, will also be performing at the CasaBlanca; Johnny Fortuno, who used to open for Don Ho in Hawaii; Travis Allen, who finished runner up to Mark Anthony of Canada last year in Mesquite and finished second recently behind California performer Chris Luna at the Ultimate Elvis Contest Legends in Concert on Fremont Street.
"Every Elvis entertainer is different," RiChard said. "They all love Elvis because he was so humble. They want to keep Elvis's dream alive."
RiChard said the Las Vegas club now includes about 300 members. Monthly meetings are presented throughout Las Vegas.
This year's Elvis Rocks Mesquite also includes the Elvis Rocks Mesquite car show with all makes of cars on display June 25 in the CasaBlanca Resort Parking lot. The car show entry fee of $45 includes a dash plaque, raffles, evening reception, awards breakfast, Elvis karaoke and special Elvis appearances.
In addition, activities on Sunday, June 26 will include a special group wedding or renewal of vows with Elvis Tribute Artists from around the world for a fee of $25 per couple.
Elvis Rocks Mesquite tickets start at $11. Show times can be found at http://www.elvisrocksmesquite.com.
For hotel room reservations and tickets, contact CasaBlanca Resort Reservations at 877-438-2929.
Further information regarding Elvis Rocks Mesquite can be found by calling Sue Arko at 480-926-5547.
Second Annual Elvis Rocks Mesquite
June 23-26, 2011
CasaBlanca Resort
Mesquite, Nevada
Tentative schedule
Thursday, June 23
5pm – 6pm: Welcome Happy Hour and Meet and Greet in Lounge
Friday, June 24
1pm – 3pm – Shake, Rattle, and Bowl Tournament – $15 extra charge entry fee.
4pm – 6pm – ETA Contest – Best of the 60's
8pm - 10pm – ETA Contest – Best of the 70's
Saturday, June 25
10am – 4pm – Four Kings Slot Tournament $10 entry fee.
4pm – 6pm – ETA Contest – Best of 1950's
8pm – 10pm – Finals of Elvis Rocks Mesquite and Copy Cats Encore
10pm – 1:45am – Elvis Karaoke in Lounge
Sunday, June 26:
10am – 12pm – Group wedding, renewal of vows, and reception at pool gazebo $25 per couple.
###