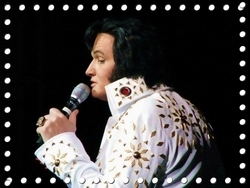 This is a very common event around the world
Mesquite, Nev. (Vocus) June 29, 2010
An estimated 50 Elvis Tribute Artists (ETAs) will invade the CasaBlanca Resort here on Aug. 5-8 for Elvis Rocks Mesquite.
The first annual event will include competition in The Best of Elvis from the 50s, 60s and 70s categories. The top three of each preliminary round will advance to the final round.
First place pays $2,000, runner up is $1,000 and third place pays $500.
Following the Elvis competition, the ETA's will return as their alter egos while impersonating other entertainers during the final show.
A long list of side activities will feature a Shake Rattle and Bowl bowling tournament at the Virgin River; along with various CasaBlanca special events that will include 4 Kings Slot tournament; a Blue Hawaiian buffet and a Gospel brunch.
Finally, the blockbuster gathering will feature an Elvis karaoke and a welcome reception with White Trash Hors d'oeuvres. Also, there will be an Elvis Sock Hop featuring $1 dances with the King to benefit a local charity.
"This is a very common event around the world," said Phoenix resident Sue Arko, who is working with Rea Link of Branson, Mo., to present the event at the CasaBlanca. "These types of events are also held in cities like Las Vegas, Atlantic City, Coolangatta, Australia; Penticton, British Columbia; Memphis, Tenn., and Tokyo, among a few. It's a big deal, to say the least."
Various room packages are available for the event including a two-night or three-night stay with four tickets, single or double occupancy at either the CasaBlanca Hotel Casino or the Virgin River Hotel Casino; along with a general seating package or premium seating package for competition in the CasaBlanca Event Center.
For further information, visit http://www.casablancaresort.com, click events and then click Elvis, or call Arko at 480-926-5547; or call Black Gaming Room Reservations at 877-438-2929.
Mesquite, Nv., is situated about 80 miles northeast of Las Vegas off-I-15.
Contacts: Michelle Evans, Black Gaming General Sales Manager, 888-711-4653, ext. 14; Mike Henle, The Idea Company Public Relations, 702-279-3483; Sue Arko, 480-926-5547.
###