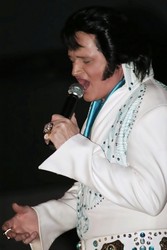 I was a nervous wreck the first time I performed four years ago in Branson
MESQUITE, Nev. (Vocus) July 16, 2010
The Elvis Rocks Mesquite event Aug. 5-8 is definitely unique with a long list of Elvis Tribute Artists (ETAs) who will converge on the CasaBlanca Resort.
And in each case, the 50 ETAs represent individuals whose goal is to carry on the legacy of Elvis Pressley, who died Aug. 16, 1977. In the case of 49 year-old former construction worker Eric Haws, a career has emerged.
"I was a nervous wreck the first time I performed four years ago in Branson" said Haws, a friendly and outgoing native of Brooklyn, Mo., near Kansas City. "I sang How Great Thou Art" and I just broke down back stage. I have improved so much over the past four years."
Just to show that Haws is serious about his career, he won a major competition recently in Branson, Mo. He never forgot Elvis when at the age of 12 he saw "The King" perform in Anaheim, Calif.
"It was a very good payday, too," said Haws. "That was the ultimate. I can make a good living at this. I'm my own boss."
Haws said he was planning to perform at the Hilton Hotel in Las Vegas before heading to Mesquite and finally on to Memphis.
The schedule can be challenging, to say the least, but you won't find a happier guy than Haws.
"I have made a lot of friends doing this," said Haws. "On the circuit, I'm known as someone who likes to have fun, sing and dance. I try to lose the Elvis part of me when I'm not on stage. When I'm done, I'm done."
The first ever Elvis Rocks Mesquite competition at the CasaBlanca includes various elements. Competition will be held in The Best of Elvis from the 50s, 60s and 70s categories. The top three of each preliminary round will advance to the final round.
First place pays $2,000, runner up is $1,000 and third place pays $500.
Following the Elvis competition, the ETA's will return as their alter egos while impersonating other entertainers during the final show.
A long list of side activities will feature a Shake Rattle and Bowl bowling tournament at the Virgin River; along with various CasaBlanca special events that will include 4 Kings Slot tournament; a Blue Hawaiian buffet and a Gospel brunch.
Finally, the blockbuster gathering will feature an Elvis karaoke and a welcome reception with White Trash Hors d'oeuvres. Also, there will be an Elvis Sock Hop featuring $1 dances with the King to benefit a local charity.
"This is a very common event around the world," said Phoenix resident Sue Arko, who is working with Rea Link of Branson, Mo., to present the event at the CasaBlanca. "These types of events are also held in cities like Las Vegas, Atlantic City, Coolangatta, Australia; Penticton, British Columbia; Memphis, Tenn., and Tokyo, among a few. It's a big deal, to say the least."
Various room packages are available for the event including a two-night or three-night stay with four tickets, single or double occupancy at either the CasaBlanca Hotel Casino or the Virgin River Hotel Casino; along with a general seating package or premium seating package for competition in the CasaBlanca Event Center.
For further information, visit http://www.casablancaresort.com, click events and then click Elvis; or visit http://www.uniquelyelvis.com; or call Arko at 480-926-5547; or call Mesquite Room Reservations at 877-438-2929.
Contacts: Michelle Evans, Black Gaming General Sales Manager, 888-711-4653, ext. 14; Mike Henle, The Idea Company Public Relations, 702-279-3483; Sue Arko, 480-926-5547.
###