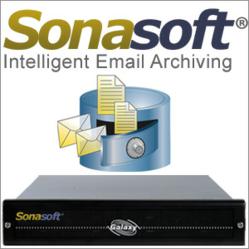 A cost-effective, easy-to-use email archiving appliance that just plugs-and-pays-for-itself
San Jose, California (PRWEB) October 24, 2012
Sonasoft Corp. announces the unveiling of a new Microsoft Windows Server 2012 email archiving appliance powered by Galaxy Hardware. This new email archiving appliance directly will compete against Barracuda Networks' Message Archiver in price, quality, and performance. Each SonaVault Email Archiving Appliance will harness the technology innovation of Microsoft Windows Server 2012. Other innovative features of Sonasoft's new email archiving appliance include Microsoft SQL Server for embedded systems to crunch the archiving data stores and quality hardware that is durable and expandable. This gives IT departments the confidence of knowing that their email archiving solution is secured and dependable. Price sensitive IT administrators will benefit from using the industry standard for data stores without having to purchase a separate license for Microsoft SQL Server, as some competitors require. Small and medium-sized enterprises, which obtain this SonaVault Email Archiving Appliance, will benefit from Sonasoft's acclaimed same-day software support and Galaxy's extended three-year hardware warranty.
A Total Solution
The real value proposition of the new Sonasoft Email Archiving Appliance is that it is a complete solution. IT admins now have a cost-effective, easy-to-use appliance that just plugs-and-pays-for-itself. For instance, this no-hassle solution is able to reduce a Microsoft Exchange Server size up to 80 percent. Companies can unleash Microsoft's technology innovations found in Microsoft Windows Server 2012 to enhance their performance while maintaining their budgets. With the new Sonasoft Email Archiving Appliance, IT admins can chose between Microsoft Storage Pools or RAID 5, for both are included at no extra charge. With Microsoft Storage Pools, adding additional storage is as simple as connecting new drives of any size and connections. This will allow organizations to future-proof their email archive storage requirements while offloading their Microsoft Exchange Server with minimum effort and at almost no cost. Other innovations will include Microsoft Windows Server 2012 and SonaVault Email Archiving Software, to be loaded on a solid-state drive (SSD) for lightning speed and dependability.
Unlike Barracuda Networks, Message Archivers, the new Sonasoft Email Archiving Appliance will not entice customers with a seemingly low price and then slice up the total price with 'must have' separate charges for 'updates', 'support', 'replacement', 'backup', etc. Once prospective buyers see through these seductive multi-levels of gauging, they will find the final cost of Sonasoft's email archiving appliance to cost much less than Barracuda Networks' offering. Customers also will appreciate the value of investing in an industry-standard, dependable, powerful, and expandable email archiving appliance. The best value at the lowest price.
"Sonasoft's email archiving software teamed up with Galaxy hardware makes a perfect solution," said Roy Smith of Galaxy. "There's a big demand in the email archiving market for a total solution based on a Microsoft platform with affordable, yet dependable hardware. IT administrators don't have time to mess with someone's software. Demands on their time have increased, and they just want something that they can plug in and do enterprise-class archiving with complete reliability. With the new SonaVault Email Archiving Appliance, this need is finally being met. "
"Sonasoft is glad to go head-to-head with Barracuda's Message Archiver", said Andy Khanna, President and CEO of Sonasoft. "Only Sonasoft's Email Archiving Solutions can retrieve 100,000 emails less than five seconds and perform 'sampling', 'content identification', and 'review management'. The competition in the SME market just doesn't offer these features at our prices. Now that Sonasoft has teamed up with Galaxy to deliver an affordable one-stop solution, we are confident that the market will respond favorably."
To obtain a no-cost assessment and learn more about Sonasoft's SonaVault Email Archiving Appliance powered by Galaxy hardware and Microsoft Windows Server 2012:
http://www.sonasoft.com/products/email-archiving-appliance/email-archiving-appliance-windows-server-2012/
About Sonasoft:
Sonasoft is celebrating its 10th Anniversary of providing enterprise-class archiving and business continuity software solutions for Microsoft Business Applications on Microsoft Windows platforms. Sonasoft's signature products for email archiving, SonaVault Software and SonaVault Appliances, deliver affordable enterprise-level functionality that meet compliance and ease-of-use requirements of small and medium-sized businesses and enterprises. Sonasoft email archiving solutions have 100's of deployments with an exceptional rate of high customer satisfaction. Founded in 2003, the company is headquartered in San Jose, California.
For a no-cost assessment regarding Sonasoft archiving products and services, contact:
Andy Khanna
CEO and President of Sonasoft Corporation
Direct - (408) 708-4000
Mobile - (408) 893-8210
Source: http://www.sonasoft.com