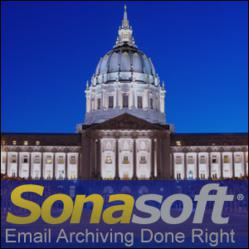 Sonasoft has provided my staff and our municipality the ability to search, archive, and recover emails without the expense", Todd Costello, Director of MIS, Township of Middletown, NJ
San Jose, California (PRWEB) May 14, 2013
Sonasoft Corp., a leader in enterprise-class email archiving, announces a special no-cost email archiving promotion to help U.S. city and county governments meet the demands from the Freedom of Information Acts (FOIA) and states' Open Public Records Laws, such as OPRA (New Jersey) and CORA (Colorado), without taxing their resources or breaking their budgets. Through this offer, city and county governments are eligible to acquire SonaVault, Sonasoft's Email Archiving Solution, free with the purchase of Sonasoft's professional installation and the first-year's maintenance contract. City and county governments can lock in their savings as long as they obtain an estimate on or before July 1, 2013, which is when this promotion ends.
"Sonasoft has provided my staff and our municipality the ability to search, archive, and recover emails without the expense," said Todd Costello, Director of MIS, Township of Middletown, New Jersey. "SonaVault is a truly affordable solution that will benefit not only your public records searches, but will make eDiscovery a quick, daily task instead of a six-month headache."
"During Sonasoft's 10th anniversary celebrations," said Andy Khanna, President and CEO of Sonasoft, "I would like to reach out to all the city and county governments and try our SonaVault Email Archiving Software risk-free. As city and county governments are required to produce emails under legislation such as the Freedom of Information Act (FOIA) and other states' Open Public Records Laws, Sonasoft recognizes the need to have an effective retrieval solution that will keep the governments in compliance and not waste time, resources, or money. Our SonaVault Email Archiving Software includes a genuine license of Microsoft SQL Server to power the database. This allows admins to retrieve 100,000 emails and attachments in less than five seconds. Other email archiving products that do not use Microsoft SQL Server just choke; they take copious amounts of time to retrieve the email, do not always search attachments, and some even limit the searches to just 4,000 emails. This unacceptable performance from competing email archivers drive up the hidden costs, deplete the public sector's resources, and fail to produce the Open Public Records. In addition, SonaVault Email Archiving Solutions allow administrators to export the email in a variety formats including write-once-read-many (WORM) drives. Sonasoft's rapid retrieval of the email saves governments' time and expense for unnecessary IT costs, so they can do what they do best, serve the people."
More details about Sonasoft's special to help city and county governments meet the demands from the Freedom of Information Act (FOIA) with no-cost email archiving:
http://www.sonasoft.com/products/email-archiving-promotions/free-email-archiving-solutions-for-governments/
To obtain a no-cost professional evaluation and learn more about SonaVault Email Archiving Software:
http://www.sonasoft.com/products/sonavault-email-archiving-software/
About Sonasoft:
Sonasoft is celebrating its 10th Anniversary of providing enterprise-class archiving and business continuity software solutions for Microsoft Business Applications on Microsoft Windows platforms. Sonasoft's signature products for email archiving, SonaVault Software and SonaVault Appliances, deliver affordable enterprise-level functionality that meet compliance and ease-of-use requirements of small and medium-sized businesses, governments, and enterprises. Sonasoft email archiving solutions have 100's of deployments with an exceptional rate of high customer satisfaction. Founded in 2003, the company is headquartered in San Jose, California.
For a no-cost assessment regarding Sonasoft archiving products and services, contact:
Andy Khanna
CEO and President of Sonasoft Corporation
Direct - (408) 708-4000
Mobile - (408) 893-8210
Source: http://www.sonasoft.com