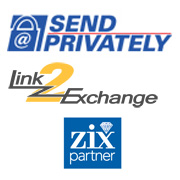 "What we know with certainty is that our customers needed a solution that is easy to use, protects their client's sensitive personal data and can be used on a variety of platforms from MAC to Windows to mobile devices; and ZixCorp is that solution"
Dover, NH (PRWEB) June 28, 2011
In a survey to its customers earlier this year, Link2Exchange found that there was a significant need for email encryption services with only three percent of respondents currently using encrypted email services. The survey further revealed that up to one third of email users would consider purchasing email encryption services. "Naturally with a response rate like that we immediately began our search for a solid, user-friendly email encryption platform that would suite our customers' needs," stated Ken McDavitt, CEO of Link2Exchange.
After a thorough evaluation of the various email encryption platforms on the market, Link2Exchange determined that ZixCorp had the most comprehensive offering for its clients. ZixCorp is the leader in email encryption services and offers a user-friendly secure email experience for both senders and receivers. For senders using ZixGateway, all outbound email is automatically scanned and encrypted if any sensitive information is detected in the email, attachments and subject line. Email recipients benefit from the ZixCorp(R) Best Method of Delivery SM which automatically delivers encrypted email based on the manner that works best for the end-user.
With a high percentage of mobile email users among Link2Exchange's customers, ZixCorp again stood out from other providers with the best overall experience for mobile encrypted email. "What we know with certainty is that our customers needed a solution that is easy to use, protects their clients' sensitive personal data and can be used on a variety of platforms from MAC to Windows to mobile devices. ZixCorp is that solution," stated Matthew Palis, VP of Sales and Marketing for Link2Exchange.
Link2Exchange will be officially releasing their SendPrivately email encryption service, powered by ZixCorp, in late June with prices starting at $7.85 per user per month with an annual contract.
About Link2Exchange
Link2Exchange (Seacoast Telecom), founded in 1990 & headquartered in Dover, NH offers a suite of cloud hosted services for business customers including Hosted Exchange, Hosted SharePoint, Virtual Servers, Website Hosting, Email Archiving, Email Encryption & Spam/Anti-Virus protection services. Seacoast Telecom prides itself in being a ZixCorp Diamond Partner and Microsoft Silver Partner utilizing the best in class products & partnering with companies who deliver the quality of service our customers demand. Our systems are controlled & managed by Ensim's Unify control panel and our own in-house software allowing for the integration of control panel tools for services such as Microsoft Exchange, BlackBerry Enterprise Server, SharePoint and Mobile Syncing. For more information, visit http://www.link2exchange.com.
About Zix Corporation
Zix Corporation provides the only email encryption services designed with your most important relationships in mind. The most influential companies and government organizations use the proven ZixCorp(R)Email Encryption Services, including WellPoint, Humana, the SEC and more than 1,200 hospitals and 1,500 financial institutions. ZixCorp Email Encryption Services are powered by ZixDirectory(R), the largest email encryption community in the world. The tens of millions of ZixDirectory members can feel secure knowing their most important relationships are protected. For more information, visit http://www.zixcorp.com.
###