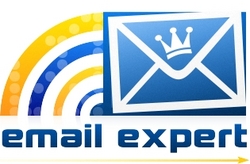 "EmailExpert.org is a specialized portal focused on the email deliverability community. "
Sydney, Australia (PRWEB) April 1, 2010
Email deliverability specialist EmailExpert.org has today announced a strategic partnership with Port25 Solutions Inc. The EmailExpert.org site launches as a dedicated online resource for email marketing professionals.
Inbox placement rates to opt-in subscribers continues to be a challenge in the age of advanced spam filtering, whitelisting, authentication and reputation. "Incorrect classification of email as spam costs business millions every year. Jupiter Research estimated that the email marketing industry will waste US$138 million on undelivered emails" says Andrew Bonar, http://emailexpert.org/ site founder.
That is nine percent of total estimated spend on email marketing in 2010. Due to this, a thriving industry has emerged and matured around the deliverability problem with hundreds of email service providers, dozens of consultants and other vendors of value added services. The Email Expert site aims to offer deliverability experts a platform to voice their opinions and solicit feedback whilst introducing senior executives to key industry players through links to twitter profiles, company sites and selected email deliverability whitepapers.
"EmailExpert.org is a specialized portal focused on the email deliverability community. Deliverability professionals will benefit from a variety of hand selected deliverability tools to enhance inbox placement rates, while email marketing professionals will benefit from a host of relevant and timely industry whitepapers from established resources. Leading industry journalists may also benefit from an extensive selection of email deliverability press releases and relevant industry news," said Fred Tabsharani, Marketing and Industry Relations for Port25 Solutions, Inc
Bonar stated "I speak for the whole team when I say we are proud of the fact our brand will be so closely associated with the Port25 and the developers of PowerMTA™. It is through these 'best of breed' partnerships with innovators in the field that EmailExpert.org will be able to offer a solid base of resources for professionals..." going on to say "Whilst the site serves a global audience its primary focus is on the APAC and European regions"
Emailexpert.org is based in London. As part of its launch, Andrew Bonar will be travelling to Australia meeting with local Email Service Providers, related Email Technology Providers, Agencies, ISP's and marketing companies on a research tour clarifying and understanding requirements.
He explains, "There is no point in pretending that email deliverability is the same in the USA as it is in Australia and New Zealand or even European countries; it is a whole different ball-game out here. The contacts that many hold so dear are not so important in APAC where the local laws and ISP's are key players in the mix, and its relationships with contacts locally that need to be fostered.
That is why we plan to extend the EmailExpert.org brand to include a number of email rendering, placement and deliverability tools, reputation monitoring services, ROI calculators that are geared for markets outside of North America"
You can visit the "Email Expert" website at http://emailexpert.org and find out more about Port25 Solutions at http://port25.com/
Port25 Solutions Inc. provides specialized email infrastructure software products that address the increased unique demands of client communications and email marketing applications. PowerMTA™, Port25's flagship product, provides senders with superior performance and advanced features to proactively manage their sender reputations. Port25's global footprint includes popular Email Service Providers and enterprise clients such as MySpace, CareerBuilder, and the New York Times. Port25 is a member of the Email Sender and Provider Coalition (ESPC) and MAAWG. Founded in 1999, Port25's mission is to help realize the potential of email as a platform for legitimate and effective customer communications. Visit http://www.port25.com for a fully featured evaluation.
About EmailExpert.org
EmailExpert.org is a new portal site & online resource for email deliverability experts launched by Andrew A.S Bonar. Having developed his first website in 1994 and as co founder of Cheapnet the UK's oldest Independent ISP he has a rich history online. His experience with email and deliverability started when he joined Pobox.co.uk early in 1994. pobox.co.uk had launched in August 1993 offering free generic email alias forwarding, making them the first provider of free email services. He has unique insight and depth of knowledge regarding email. His experience was further enhanced when in 2003 he launched MailPhoenix an email service provider. Currently Andrew operates as a freeleance email deliverability and best practice consultant, regularly travelling to New Zealand, Australia and Europe as part of his work for clients. Available for speaking commitments, as a media contact for industry comment and analysis. For more details visit Andrew Bonar: BonarMedia.com
Note to Editors
Figures quoted are for 2010 according to a client report published in December 2008 for Goodmail by Jupiter Research (A Forrester Research Company)
Press Release Contacts:
Andrew A.S Bonar
Press & Media Relations
PR Angel Solutions Limited
Tel UK | +44 (0) 207 617 7540
Tel NZ | +64 (0) 6 889 8420
skype: bonarmedia
twitter: @andrewbonar
Specialist subjects include: Email Authetication, DKIM, SPF, Reputation Management, Spam Control, European, New Zealand and Australian Spam Legislation and email marketing best practice.
--------
Fred Tabsharani
Marketing | Industry Relations
Port25 Solutions, Inc.
E: fred(at)port25(dot)com
O: 510.526.3733
T: @tabsharani
###