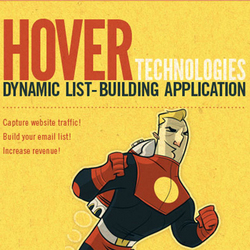 HOVER is the best tool I've found for email list building.
Tulsa, OK (PRWEB) May 11, 2010
Rockitsoft Internet Technologies has launched HOVER, a new HTML popup script generator for website owners to build opt-in email lists quickly. HOVER development was fueled by the success of ecommerce veteran Tony Brobst.
"HOVER is the best tool I've found for email list building," said Brobst, who has added more than 9,000 names to his opt-in email list since first installing the HOVER HTML popup script about three months ago on his retail site, http://www.thecamoshop.com.
"It works great. I'm able to capture the contact information from one-time website visitors. Now I can contact them on a regular basis. For an ecommerce site paying for each click, each visitor, this is huge."
An online entrepreneur for the past eight years, Brobst leveraged the income from his successful retail ecommerce sites to develop HOVER. His goal: building a list of emails to increase online revenues.
HOVER makes email list building easy, and is not blocked by HTML popup script popup blockers.

Capture email addresses for any website.
Generate popup ads easily point-and-click creation.
Store opt-in email list in an online database.
Export email list into any email marketing system.
As a busy ecommerce owner, Tony knew the HOVER interface had to be intuitive. His development team spent more than 100 hours crafting a user-friendly system for users.
"You just create your HTML popup script, save it, and then add it to your site," Brobst said. "It wasn't hard to figure out, which is great, because I don't have time for a long learning curve."
Rockitsoft's HOVER popup generator subscriptions start at $20 a month for unlimited emails, unlimited HOVER ad changes, and an online email list building database. Professionally designed ads, copywriting and installation are available for a one-time $250 setup fee.
"HOVER ads are attention-getting without being annoying," said Brobst. "They aren't blocked by HTML popup blockers, so your visitors will actually see them. And they don't block out the content on your site, which is the real reason people show up."
To try out a free HOVER HTML popup script demo, visit Rockitsoft online at http://www.rockitsoft.com.
# # #