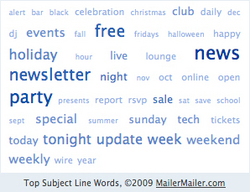 The key to leading winning campaigns in the midst of a recession is to move with the ebb and flow of changing subscriber preferences
Rockville, MD (PRWEB) June 1, 2009
MailerMailer releases its ninth bi-annual Email Marketing Metrics Report which highlights the latest trends in email marketing. Among the many takeaways, readers can learn the most frequently-seen terms marketers used in email subject lines to attract people to open their messages. They can also view, as well as obtain, a copy of a word cloud depicting the popularity of these words to use on their own blog or website. Both the publication and the word cloud can be downloaded for free at http://www.mailermailer.com/metrics.rwp.
The top ten most popular terms in subject lines are:
1. news
2. party
3. newsletter
4. free
5. night
6. sale
7. com
8. update
9. holiday
10. week
In light of evolving technology and consumer preferences, the report also provides instructional material for designing mobile-friendly emails. With more people viewing email on Blackberrys, iPhones and other hand-held devices every day, there is an increasing need for marketers to pay attention to this segment of their target audience.
The 38-page report is filled with charts, tips and data that provides businesses with relevant information to help them adjust their email marketing strategy to cater to their audience's changing needs.
Other interesting points included in the report:

Emails are being opened sooner: 32.6% of all opens occur within the first two hours compared to 29.6% six months prior
Click rates held steady, rising just slightly by .08% in the second half of 2008
Email deliverability keeps increasing -- more emails are reaching recipients' inbox
Religious/Spiritual emails are getting the highest open and click rates compared to other industries
And more…
"The key to leading winning campaigns in the midst of a recession is to move with the ebb and flow of changing subscriber preferences," says MailerMailer CEO Raj Khera. "Our report covers many important trends marketers need to be aware of to make strategic decisions in running their campaigns."
This report covers the performance data of over 300 million emails from 21 different industries from July to December 2008.
About MailerMailer Email Marketing
MailerMailer is a leading do-it-yourself email list management provider. Equipped with the latest email marketing technology, such as zip code radius targeting, image hosting and the fetch HTML from website feature, MailerMailer allows easy creation of professional email newsletters and campaigns. MailerMailer is part of a series of sites run by Khera Communications, which includes discussion group management tool, DiscussThis, and small business resource site, MoreBusiness.com. A free trial of this email marketing service is available at http://www.mailermailer.com.
# # #