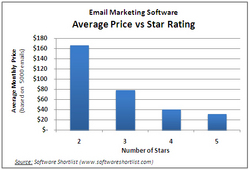 These findings show why you need independent product information before choosing email marketing software
(PRWEB) March 3, 2010
The old adage that "you get what you pay for" may lead you astray when choosing email marketing software. A new study of 19 web-based email marketing solutions revealed major pricing differences that are not justified by quality or functionality, according to Software Shortlist, an online comparison and review site for business software.
A high price turns out to be a surprisingly poor guide to the quality of email marketing software for small and mid-sized businesses.
In fact, the products that were rated the highest in the reviews were typically much more affordable than the lower rated solutions. This inverse relationship between price and rating was unexpected, since price was just one of ten factors in the reviews.
Assuming 5000 emails per month, the three products awarded five stars had an average monthly cost of only $31 per month, compared to over $166 per month for the two star products. The most expensive email marketing software cost a remarkable 17 times more than the most affordable... and delivered less.
"These findings show why you need independent product information before choosing email marketing or email newsletter software," explained Xavier Russo, co-founder of Software Shortlist. "The pricing, functionality and usability of online email marketing systems can vary considerably"
Full details of the reviews are published in the Email Marketing Software Review Pack, released today by Software Shortlist and available for purchase on its website.
"This new review pack gives you the information you need to make an informed decision about which email marketing software is best for your business" said Xavier.
Products reviewed include: AWeber, Benchmark, Campaign Monitor, Campaigner, Constant Contact, Email Brain, Ennect Mail, GetResponse, GraphicMail, iContact, inwise, JangoMail, MailChimp, newzapp, Savicom, SimplyCast, Streamsend, Vertical Response, and Vision 6.
About Software Shortlist
Software Shortlist helps small to mid-sized businesses choose the right software. Based on independent software reviews, the firm provides valuable information and resources for decision-makers, including a range of review packs and a patent-pending online comparison tool. Software Shortlist is a privately held company based in Melbourne, Australia. Visit us at http://www.softwareshortlist.com
Contact:
Xavier Russo,
Marketing Director and Co-Founder
Software Shortlist
xavier(at)softwareshortlist(dot)com
###