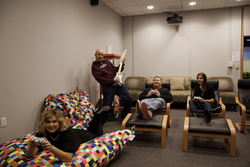 We try really hard not to be a faceless corporation.
Huntingdon Valley, PA (PRWEB) October 15, 2010
AWeber Communications, a Philadelphia-based company that helps small businesses grow through permission-based email marketing, will host a 24-hour video game marathon at their Huntingdon Valley headquarters to benefit the Children's Hospital of Philadelphia.
The marathon is being held in conjunction with Extra Life, a charity effort that recruits video gamers worldwide to benefit children with illness. Employees at AWeber Communications have compiled a team that is armed and ready with their controllers, and are not only making personal donations, but have asked their online customer community of 91,000+ to help sponsor them as well.
"We try really hard not to be a faceless corporation," says Zachary Reese, Video Producer at AWeber and organizer of the marathon. "We communicate regularly with customers via our email marketing blog, newsletter, social media sites, and our live customer solutions team, and so if we're able to engage our online community for this cause in the same way that we do when it comes to email marketing, we'll be in an even better position to make as much of a positive impact as possible."
All funds will be collected by the Children's Miracle Network and dispersed directly to the hospital selected by participants, in this case, CHOP. AWeber has been a member of the Philadelphia community since 1998, when CEO Tom Kulzer originally founded the company, and for some AWeber employees, CHOP in particular has been a life-saver--literally.
"Personally, I'm thrilled that we're raising money for CHOP, says Amanda Gagnon, Education Marketing Associate and marathon participant. "My daughter stayed there as a newborn--without them, she wouldn't have made it. I want to help make sure as many children as possible get that same chance."
The marathon will be held in AWeber's game room, a dedicated multimedia space including Wii, Xbox, projector screen, leather chairs, sofas, oversized bean bags and a popcorn machine. Not only will they be playing the infamous Super Mario Brothers, but they've also got a selection of less-known video games ready and waiting, such as The Path, Civilization, Amnesia, and Mega Man X--not to mention a whole host of board games, for when their eyes can no longer face the screen.
"We usually use the game room at lunch time just to unwind, but this is a great way to really put the space to use," commented Reese. "I'm getting ready for a whole lot of finger cramps, a whole lot of pizza, and, hopefully, a huge success."
The marathon starts at 8AM on Saturday, October 16, 2010 and runs until 8AM on Sunday, October 17th, 2010. While the event is not open to the general public, those interested in learning more may visit the company's team webpage here.
ABOUT AWEBER
AWeber Communications helps businesses increase sales and profits through its suite of web-based email marketing tools. The privately held, debt-free company was founded in 1998. For more information, visit http://www.aweber.com.
# # #