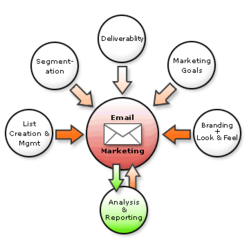 When marketers tread off topic and promote content the user didn't sign up for, the user gets frustrated and unsubscribes... Subscribers should have control over selecting the information that's relevant...that's what makes for a loyal customer base.
Austin, TX (PRWEB) February 28, 2013
Email marketing is one of the most effective and widely used online marketing strategies a business today can implement. It is relatively cheap, uniquely personal, and directly affects a business's core target market. But with spam and social media clouding users' attention, how do business owners optimize their email marketing technologies to provide the highest ROI possible? Here are some suggestions for email marketing, and changes business owners can implement to boost email efficiency.
Use Event-Triggered Messaging
An excellent strategy is event-triggered messaging driven by consumer behavior. Users are never more interested in a business's product or service than right after they have taken the time to invest in it. This is the best time for an online marketer to target the user with post-purchase messages such as a transactional follow-up or a leverage email directing the user to similar products. The key in this strategy is to strike while the iron is hot. To tempt the user by encouraging the brand without overloading by sending months of recurring promotions. The data company Gartner estimates that inbound and event-triggered techniques will see a 600% higher response rate than outbound campaigns. One also should remember not to overload the user with unimportant information; the best approach is quality over quantity. A user needs to know that what a business is sending them is valuable--otherwise they will tune out the message altogether.
Digital Body Language
One good strategy is tuning into potential users' "digital body language." What pages has the user visited before? What coupon/article have they been known to click through? Knowing the answers to these types of questions can greatly benefit a business in terms of marketing efficiency. Marketers should consider a prospect's wants and needs while also researching and considering their previous purchasing habits to make informed decisions on how best to target them. In short, marketers need to actively walk the fine line between pushing what they want to sell/promote and what content the consumer wants to see building in his/her inbox. Social media can best be accredited to this shift in thinking, as it is undoubtedly a catalyst in the micro-marketing approach. It's also important that business owners stay on-message. When marketers tread off topic and promote content the user didn't sign up for, the user gets frustrated and either tunes out or unsubscribes. Subscribers don't necessarily want new information and should have control over selecting the information that's most relevant to them. That's what makes for a loyal customer base.
Digital Media Integration
One important thing to do is weave email marketing programs in with new media integration, pulling excerpts from one form of media and platforming it across all open channels. This strategy streamlines content and unifies the consumer with a business's overall brand.
Digital Media Tips:

Build excitement with posts and tweets a couple of hours before the email release and follow with updates a few hours after the launch. Link one of the posts or tweets to an online version of the latest email.
Provide sample "share" copy with colleagues, volunteers and friends, so they can help spread the word via their own social network sites.
Use compelling graphics for goal-oriented campaigns such as a thermometer on a Facebook page to display the latest results.
Include a "last minute reminder" tweet and post for appeals with a deadline.
Accommodate mobile: Most smartphone users view much of their email on their phones, so it's important to ensure that email messages will render nicely on Apple and Android devices. Every page on a website should be optimized for mobile browsers.
Study Breaks College Media provides a one-stop solution for small businesses, providing them with big marketing strategies and delivering college students.
Study Breaks magazine is an award-winning line of monthly entertainment magazines for college students with a mission can best be explained through its slogan: We are college life. Published by Shweiki Media Printing Company, it is distributed in five Texas cities (Austin, Houston, San Antonio, San Marcos and Lubbock) and two southeast cities (Athens, GA; Columbia, SC). (Studybreaks.com)