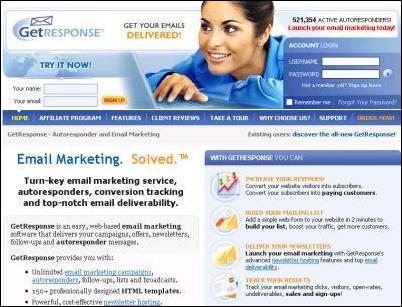 Of those small businesses that measured their email marketing efforts, the majority tracked only the outdated and unaccountable email open rate statistic
Wilmington, DE (PRWEB) August 11, 2006
A study published today by GetResponse concludes that most small businesses do not track the success rate of their email marketing campaigns.
The report analyzed feedback from 2,219 small businesses that use email to communicate with their customers and found that 52.8 percent of companies didn't track their email campaign results. This comes as a surprise following the projection from JupiterResearch for email marketing spending to increase to $950 million this year from $885 million in 2005.
"Of those small businesses that measured their email marketing efforts, the majority tracked only the outdated and unaccountable email open rate statistic," said Simon Grabowski, CEO of GetResponse. "The open rate is the number of subscribers who open the email message divided by the total number of all successfully delivered emails. For increased security against virus outbreaks and malware, major email software and web-based email services are now firewalled from accessing online content. As a side effect, this has significantly impaired the accuracy of the open rate, as it requires downloading of online elements."
"Despite these technology constraints, small business owners have tools at their disposal to determine the effectiveness of their email marketing. It is relatively simple to check the percentage of subscribers who visit their websites and purchase their products, as the result of a specific email campaign."
"We were surprised to find that less than 11 percent of respondents tracked their campaign conversions. The vast majority of small business owners are in the dark regarding the efficiency of their email promotions, and when the sales or leads pour in, they cannot attribute these conversions to a specific campaign. This is regrettable, because with careful testing of email subject, content and formatting, businesses are often able to generate dramatic increases in their Internet marketing results."
About GetResponse
GetResponse, an Implix LLC company, provides self-serve
email marketing software that enables companies and organizations to deliver and track their email newsletters and campaigns via an intuitive, web-based application that has been engineered for non-technical Internet marketers and small business owners. The company, founded in 1998, has helped thousands of small businesses to market via email more effectively.
# # #