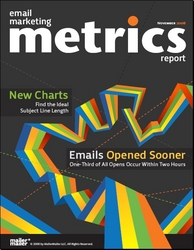 We hope our report encourages email marketers to track, test and continually improve their individual email campaigns.
Rockville, MD (PRWEB) November 10, 2008
MailerMailer publishes their eighth bi-annual email marketing metrics report which analyzes the email statistics of over 350 million emails in 21 different industry groups from January to June 2008. This study uncovers new email marketing trends, including emails being opened sooner. Email marketers can also see how they measure up against others in their industry, learn up-to-date tips to optimize their campaign ROI and set realistic goals for their e-marketing efforts.
The latest email metrics report can be downloaded for free at http://www.mailermailer.com/metrics/.
Among the recent email trends discovered in the research was that people are opening emails sooner; one-third of the study's email messages' opens occur within the first two hours of reception. This is an almost ten percent increase from last year. And as a reprise from last year's shorter subject line length theme, there is a new chart exploring the varying performance of emails with different subject line lengths.
Other key points discussed in the report include:

How personalization affects open and click rates
Click rates by format
Bounce percentage by mailing frequency
Total emails opened by hour
Open and click rates by list size and industry
Top industries discovered to have the highest open rates for the first half of 2008 are banking/finance, religious/spiritual, government, and telecommunications.
MailerMailer CEO Raj Khera comments, "We hope our report encourages email marketers to track, test and continually improve their individual email campaigns." He adds, "Email marketers can implement best practices gathered in this report, while still catering to the unique preferences and nuances of their own audience."
Readers can comment on the latest study and share their thoughts at: http://blog.mailermailer.com/2008/11/email-metrics-2008/
About MailerMailer Email Marketing
MailerMailer.com is an award-winning do-it-yourself email list management provider. Equipped with the latest email marketing technology, such as zip code radius targeting, image hosting and fetch HTML from website feature, MailerMailer allows easy creation of professional email newsletters and campaigns. MailerMailer is part of a series of sites run by Khera Communications, which includes discussion group management tool, DiscussThis, and small business resource site, MoreBusiness.com. A free trial of this email newsletter service is available at http://www.mailermailer.com.
###