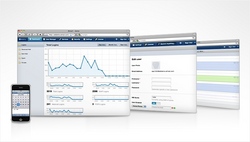 Minneapolis, MN (PRWEB) June 30, 2010
A new generation of the Atmail Server Appliance designed specifically for small businesses, will be available soon. The Atmail S-Class Email Appliance is a complete messaging solution in a box, designed to meet small businesses email, webmail and collaboration needs. The new email appliance incorporates Atmail Email Server messaging and collaboration software with energy efficient hardware, as a complete, simple to use solution for companies with up to 200 email users.
"Email has become mission critical for most companies, making it an important intellectual property asset", said Ben Duncan, Atmail's CEO. "Email has no expiration date and email records can exist into the distant future. Cloud, SaaS or hosted email solutions require companies to assign or share control of intellectual property assets, along with their security, storage, mobility and availability", Mr Duncan added. "After giving up control, companies also lose control of where this data will be in 5, 10 or 20 years."
According to Gary Doan, Atmail VP Business Development, "The S-Class Appliances will be the most complete, most comprehensive email appliances available for small businesses. It will also be the most cost effective solution for small business. With the introduction of the S-Class appliance, small businesses will have an affordable private messaging option and are no longer forced to give up or share control of critical assets, to get affordable messaging, calendar and contact sharing or resort to expensive, more complicated options like Microsoft Exchange Server"
The Atmail S-Class Appliance is compatible with the leading desktop email clients like Microsoft Outlook and Apple Mail. The S-Class Appliance includes a complete email-server platform, with a premium webmail client, plus calendar and contact sharing.
Appliance:
The S-Class Appliance is powered by a 64-bit dual core processor, an Enterprise-Class operating system with integrated server software packages and ample storage to accommodate 200 user accounts with 1GB mailboxes. It is a stand-alone 1U server with gigabit Ethernet network access. The S-Class has a low operational cost and it is energy efficient. It consumes only 33 watts of power under load.
Easy Setup and Administration:
Installation, setup and administration is done using a web browser. First direct the domain MX record to the appliance's IP address. Then use the included Webadmin administration tool to change settings, add a company logo, name, footer information to the webmail client. Once the administration and user information is entered, the private S-Class Appliance is ready to use and will require very little attention for administration and management.
Features:

SMTP, POP3, POP3s, IMAP, IMAPs, SMTP TLS, CalDAV server included
Atmail Premium Webmail client included
Complete Web-administration - Sub-admin, User management, reporting, settings
Webmail Address book with User, Global and Shared contact support
Groupware Support for sharing Calendar events, tasks and contacts
Calendar Server included using the open protocol CalDAV specification
CalDAV and CardDAV webmail client support
Complete Web Calendar interface
Calendar free-busy support for availability and delegation
LDAP support for authentication
Spamassassin Anti-Spam engine with user-level settings
ClamAV Anti-Virus included for incoming/outgoing messages
Pricing and Availability:
The S-Class Appliance S50-200 with 50 user licenses is $1,995 and additional 50 user license packages are available for $200. The prices include a one year, upgrade and Basic Support package. The Appliance will be available in the USA from Atmail website on July 14, 2010. Atmail is planning to make the S-Class available to resellers in the near future.
About Atmail:
Atmail develops email messaging and collaboration solutions. Products include, Atmail Cloud Services, Atmail Webmail, Atmail Email Server, Atmail Email Server Appliances, Atmail ArchiveVault and Atmail ArchiveVault Appliance. The company has more than 4,000 customers worldwide, including many international companies, universities, service providers and government agencies. Atmail now has more than 15 million users.
Webmail Demo: http://a6demo.atmail.com/
Web Admin Demo: http://a6demo.atmail.com/index.php/admin/
Media: http://www.atmail.com/media.php
###