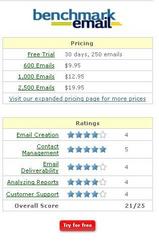 We are constantly updating the site in order to provide current information to users who need to make a quick, informed buying decision
Austin, TX (Vocus) September 8, 2009
Email-Marketing-Options.com features a completely updated comparison grid, which presents new top email marketing services rated according to the site's email marketing criteria. Particularly, the grid includes a couple of new high-scoring email marketing services, which give industry leaders such as Constant Contact and iContact a run for their money.
"We are constantly updating the site in order to provide current information to users who need to make a quick, informed buying decision," says Email-Marketing-Options.com developer April Coburn. "Since we've reviewed several new companies and updated our comparison grid, there has been a lot of interest in StreamSend and Benchmark Email, two new additions to the grid."
According to the website, "StreamSend is a great option for consumers who are new to email marketing." The full review details StreamSend's easy, step-by-step process for creating and sending email campaigns and explains the maximum five-star rating awarded for email deliverability. The review of StreamSend's service most closely resembles that of iContact, which discusses iContact's "straightforward" email creation tools.
"In terms of user friendliness, StreamSend is comparable to industry leader iContact and offers a very reasonable monthly premium," says Coburn.
The similarities may at least partially explain StreamSend's growing popularity. But, even though StreamSend's may be popular with some, Coburn acknowledges that iContact may be a better fit for others. "iContact and StreamSend each have unique features," she says, that make them desirable. For example, iContact offers survey templates, while StreamSend offers unlimited image hosting.
Another new service appearing on Email-Marketing-Options.com's comparison grid for the first time is Benchmark Email, a service that boasts the same overall score as industry leader Constant Contact, though the two services have notable differences. Benchmark excels at contact management and reporting, while Constant Contact offers superior email deliverability and customer support.
"What's great about our comparison grid and comprehensive reviews is that people can read them and quickly decide which email marketing service meets their needs," says Coburn.
In the three months since Email-Marketing-Options.com was re-launched with a new star-rating system and updated email marketing reviews, the reviews and comparisons have been refreshed in an effort to keep the site accurate. In addition to the site's initial seven reviews, the website features new reviews of JangoMail, AWeber, EliteEmail, Benchmark Email and StreamSend. Email marketing services are rated on the following five email marketing categories: Email Creation, Contact Management, Email Deliverability, Analyzing Reports and Customer Support. Email marketing providers are given a 1-5 rating on each main category as well as a cumulative score. Reasons behind each particular rating are detailed on the provider reviews pages, where users are able to view pros, cons, an overall conclusion, main features and pricing information for each email marketing provider. After comparing the data and selecting an email marketing provider, site visitors can sign up for a free trial or choose a payment plan with their provider of choice.
For more information on email marketing software reviews, please visit http://www.Email-Marketing-Options.com.
# # #