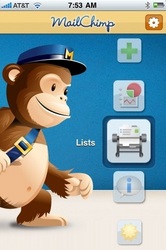 Email marketing iPhone and iPad apps are proving to be useful for small business owners
Austin, TX (Vocus) May 26, 2010
Thanks to the latest wave of iPhone apps, email marketing software is now more popular than ever. iPhone apps from email marketing companies, such as Constant Contact and iContact, have made it possible for business owners to send key emails and capture new email addresses on the go. Email-Marketing-Options.com, which monitors the release of new apps, as well as updates to email marketing software, details the apps of six top providers: Constant Contact, MailChimp, iContact, Exact Target, Campaign Monitor and GetResponse.
"Email marketing iPhone and iPad apps are proving to be useful for small business owners" says Email-Marketing-Options Research Analyst Adam Malden. "These apps make it extremely easy to save customers' email addresses directly into your email marketing service and send an email blast with discounts or other special offers any time of day."
Although the apps are meant to be more basic than their corresponding online interfaces, they can handle essential features like adding contacts to specified email lists, sending and scheduling email campaigns and viewing basic report statistics, such as the number of opens, bounces and clicks. But some apps offer extra functions, like viewing reports in graphs or charts, viewing calendars or previewing your most recent email campaign before you send. MailChimp even displays a user's Chimp Chatter, which offers Twitter-like status updates about recent email campaigns.
"It's interesting that, based on our tests, the functionality of each iPhone app tends to reflect the quality of the email marketing programs," says Malden. "A provider who received a higher rating in our review tended to offer a more user-friendly, functional iPhone app than a provider who got a lower rating."
Email-Marketing-Options.com features reviews of top email marketing services like Vertical Response, Constant Contact, iContact, AWeber, MailChimp and more. The site features star ratings for each service on five categories: Email Creation, Contact Management, Email Deliverability, Analyzing Reports and Customer Support. Visitors to the site can make an "apples to apples" comparison of email marketing services based on price, features and capabilities. The site also offers tips on creating and sending email newsletters and email campaigns and other helpful information for utilizing email marketing services.
To compare icontact vs constant contact and any other top email marketing services on features and pricing, please visit http://www.Email-Marketing-Options.com.
# # #