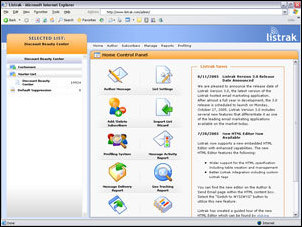 The Listrak advanced email marketing solution gives our clients intuitive and proactive tools to manage list hygiene and, thus, maximize opt-in email marketing response rates
Lititz, PA (PRWEB) October 24, 2006
When email direct marketing began in the early days of the Internet, mass email marketing efforts were squashed by spam and abuse before it matured into a regular practice among major players. But today, there's a dramatic resurgence on the horizon in the targeted email marketing arena, as careful audience targeting and list hygiene improve value and worth to ad readership.
In his recent article 'E-mail Resurges', ClickZ's Kevin Newcomb discusses the harmful effects of SPAM on legitimate mass email marketing, as well as promising strategies in use to combat this. He found that, while SPAM is a pervasive problem, ongoing research, testing and implementation of authentication processes combined with sender reputation have overrode the pitfalls in many instances.
In fact, email direct marketing has risen in volume so dramatically that a recent Direct Marketing Association (DMA) report from London found a 30 percent increase in mass email marketing since last year. This rise in email direct marketing is attributed to more effective use of the medium along with suitable audience targeting. Email direct marketing rates are expected to soon reach the same volume levels of traditional postal mail marketing.
"The considerable rise in acquisition response rates demonstrates increasing sophistication among clients in terms of their targeting and messaging." States Richard Gibson, chairman of the council. "The report shows that marketers are continuing to invest in email as a channel and are also taking steps to improve via their provider list hygiene." To more easily target promotions and manage list hygiene in an automated, cost-effective manner, many companies are turning to affordable email marketing solutions like Listrak, one of today's leaders in hosted email marketing software. The Listrak solution is already in place at many ad agencies, for-profit and philanthropic organizations demanding effective targeted email marketing results.
"The Listrak advanced email marketing solution gives our clients intuitive and proactive tools to manage list hygiene and, thus, maximize opt-in email marketing response rates," states Ross Kramer, CEO of Listrak. "Our system automatically corrects common misspellings, syntax and input errors including common typographical mistakes like alo.com and hotmall.com. With thousands of corrections made every day, Listrak ensures email marketing campaigns gain maximum return on investment."
Businesses and marketers can learn more about Internet Marketing email promotion at the Listrak Resource Center, listrak.com/resources.asp. The Resource Center offers email direct marketing articles, white papers and customer newsletter archives.
About Listrak
Listrak is a leading provider of hosted email marketing software that allows permission-based marketers to manage, send, track and grow their email marketing investment. Listrak services clients such as Daimler Chrysler, Motorola, L'Oreal and the Islands of the Bahamas from its Lititz, PA headquarters. Listrak was named the 2006 Small Business Technological Excellence Award winner by the Philadelphia Chamber of Commerce, a Top Fifty Fastest Growing Company in 2006 and 2005 by the Central Penn Business Journal and the 2005 Growth Company of the Year by the Technology Council of Central PA.
###