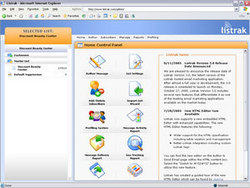 Listrak 4.0 has been completely revamped to make it easier for our customers to communicate and interact with their contacts on a more personal level.
Lititz, PA (PRWEB) September 6, 2007
Listrak, a leading email marketing solution provider based near Lancaster, PA, announced that it has launched Listrak 4.0, its latest version of its award winning email marketing solution. Listrak 4.0 features include a robust dynamic content engine, content library, internationalization, campaign organization, enhanced reporting, and an improved sending engine. These latest features give Listrak users the ability to create email campaigns with an even greater amount of personalization for increased relevancy and response.
"We are very excited to offer advanced features, such as dynamic content and internationalization," says Ross Kramer, CEO of Listrak. "Listrak 4.0 has been completely revamped to make it easier for our customers to communicate and interact with their contacts on a more personal level."
Listrak 4.0 includes the following product enhancements:
Content Library
The Content Library allows users to store and organize blocks of HTML and plain text messages to use when creating Dynamic Content messages in Listrak's WYSIWYG editor. Users only have to create the message blocks once and they may be reused as needed.
Robust Dynamic Content Engine
Listrak supports email marketing campaign automation through its Dynamic Content engine. The Dynamic Content engine allows campaign managers to define content rules that will dynamically assemble messages based on the intended recipient's profiling filters. This strategy allows marketers to send timely, relevant messages that resonate with contacts on an individual level.
Campaign Manager
The ability to group emails by campaign has been added so related messages may be categorized for better organization, tracking, and reporting. All of Listrak's reports have been updated to show the results by campaign with the ability to drill down to the individual email level. Also, the Saved Messages and Scheduled Messages pages have been updated to group emails by campaign as well.
Internationalization
Listrak has the ability to set up email campaigns in a number of different character settings so messages may be translated into different languages. By default, campaigns sent through Listrak use the English character set ASCII (American Standard Code for Information Interchange), but Listrak's Internationalization tools allow users to setup an email campaign that can be viewed by recipients that typically read email messages in a number of foreign languages, including Russian, Greek, Arabic, Chinese, Japanese, Portuguese, etc.
Listrak's targeted email marketing solution helps improve the success and profitability of marketing and IT efforts across all industries. To learn more about Listrak 4.0, or to schedule a product demo, visit http://www.listrak.com.
About Listrak
Listrak is a leading provider of hosted email marketing software that allows permission-based marketers to manage, send, track and grow their email marketing investment. Listrak services clients such as Daimler Chrysler, Motorola, L'Oreal and the Islands of the Bahamas from its Lititz, PA headquarters. Listrak was named the 2006 Small Business Technological Excellence Award winner by the Philadelphia Chamber of Commerce, a Top Fifty Fastest Growing Company in 2006 and 2005 by the Central Penn Business Journal and the 2005 Growth Company of the Year by the Technology Council of Central PA.
###