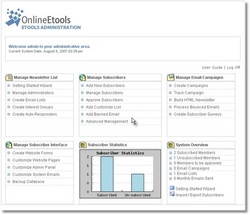 We're excited to bring Omnistar Mailer 5.0 into the online marketplace and offer businesses and organizations the benefits of powerful email marketing functionality that are easy to use
Columbia, MD (PRWEB) September 20, 2007 –-
Omnistar Interactive, a leading provider of web based software tools and services that help businesses and organizations connect with their customers and automate business functions, has announced the release of Omnistar Mailer version 5.0. Omnistar Mailer allows allow anyone to send attractive HTML emails without needing to have any technical experience.
"The launch of Omnistar Mailer has shown our commitment to providing our customers with the best web based software solutions," said Tariehk Geter, CEO of Omnistar Interactive. "Omnistar Mailer's rich functionality, simplicity, and affordability provide businesses and organizations with a powerful web based tool to help them grow."
Major new features of Omnistar Mailer 5.0, available at http://www.omnistarmailer.com , allow small businesses and organizations to easily create automatic reminders for specific emails to be sent to administrators. The autoresponder software component of Omnistar Mailer has also been improved to offer a more advanced interface.
"We're excited to bring Omnistar Mailer 5.0 into the online marketplace and offer businesses and organizations the benefits of powerful email marketing functionality that are easy to use," said Arlen Robinson, COO of Omnistar Interactive. "With Omnistar Mailer version 5.0 our customers will be able to build stronger relationships with their existing and new clients. We are confident that our email marketing software will become the primary marketing resource for businesses and organizations world wide."
In addition, Omnistar Mailer includes professionally designed HTML templates that users can modify with no HTML experience.
About Omnistar Interactive, LLC.
Omnistar Interactive, LLC. is a web software solution provider that helps businesses and organizations connect with their customers and automate various business functions. Launched in 1998, Omnistar has helped thousands of customers world wide to achieve success. To learn more about Omnistar Interactive, visit http://www.omnistaretools.com
Please direct all press inquires to:
Arlen Robinson
Chief Operating Officer
Omnistar Interactive, LLC.
(800) 660-0740
###