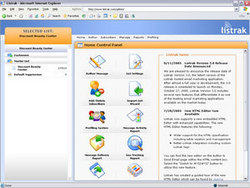 Listrak Case Study with VinterActive
Lititz, PA (PRWEB) October 4, 2007
Listrak, a leading email marketing solution provider based near Lancaster, PA, and VinterActive, a wine industry leader in the research and practice of consumer direct wine marketing, announced today that they are co-presenting a session at the DMA 07 conference in Chicago, IL. The session, entitled "Listrak Case Study with VinterActive", will take place Wednesday, Oct, 17, at 9 a.m.
VinterActive builds Ecommerce websites for over 30 wineries around the country and it has integrated Listrak's preference-based email marketing solution to drive consumers to its customers' websites. Each email campaign is targeted to a specific customer preference and purchase history. This not only captures the attention of each recipient as the message only contains information of interest to them, but it also helps increase customer loyalty and satisfaction. That, in turn, drives sales. Ross Kramer, CEO of Listrak, and Bryan St. Amant, Founder of VinterActive, will discuss the details of this case study, including lessons learned and campaign results.
Using Listrak, VinterActive can track results to the user level to find out exactly which recipients turn into repeat customers. VinterActive campaigns consistently achieve open rates of nearly 30%, with it being as high as 60% at times. Click through rates average 15-25%. VinterActive has noticed that targeted email campaigns continue to have a response rate that is 250% higher than broader email blasts.
Kramer said, "Targeting and segmenting your audience based on their preferences is the greatest way to increase the relevancy of your email campaigns. VinterActive has extensive experience using this technology to reach its audience, and participants will learn the best practices so they can achieve the same results with their campaigns."
To read more about VinterActive's email marketing application, please visit Listrak's email marketing resource center to read the case study.
About VinterActive:
Founded in 2001, VinterActive LLC is a wine industry leader in the research and practice of consumer direct wine marketing. VinterActive's proprietary techniques for increasing tasting room, wine club and online sales have proven effective for both large and small wineries seeking to maximize their share of the rapidly growing consumer direct sales channel. To learn more about Vinteractive's powerful preference-based email marketing practices, visit their site at http://www.vinteractive.com. Be sure to visit the site's free Wine Marketing Library for insightful white papers regarding email testing, ecommerce, measuring campaign success, growing preference based email lists, and more.
About Listrak:
Listrak is a leading provider of hosted email marketing software that allows permission-based marketers to manage, send, track and grow their email marketing investment. Listrak services clients such as Daimler Chrysler, Motorola, L'Oreal and the Islands of the Bahamas from its Lititz, PA headquarters. Listrak was named the 2006 Small Business Technological Excellence Award winner by the Philadelphia Chamber of Commerce, the 2006 Emerging Business of the Year by the Central Penn Business Journal, a Top Fifty Fastest Growing Company in 2006 and 2005 by the Central Penn Business Journal, and the 2005 Growth Company of the Year by the Technology Council of Central PA. To learn more, visit http://www.listrak.com.
###