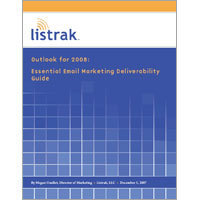 Outlook for 2008: Essential Email Marketing Deliverability Guide
Lititz, PA (PRWEB) December 7, 2007
Listrak, a leading email marketing solution provider based near Lancaster, PA, announced today that its "Outlook for 2008: Essential Email Marketing Deliverability Guide" is available for free download in its resource center. The guide is a detailed look into the five major areas that affect email deliverability, including reputation, authentication, accreditation, content, and email sending technology, and it offers extensive instructions on what email marketers can do to ensure their emails are delivered to their recipients' inboxes and are not filtered or blocked by Internet Service Providers (ISPs). Listrak will also host a complementary deliverability webinar on Dec. 18 at 1:00 pm EST. Participants may register for free at https://www1.gotomeeting.com/register/956938358.
In the past, ISPs focused on the content of emails to determine if the message was spam. However, there has been a recent shift and ISPs are now focusing primarily on the reputation of the company. Reputation factors, including number of complaints, bounce management, third-party blacklists and blocklists, and configuration of emails and server settings, account for nearly 77 percent of the information used by ISPs to determine deliverability. Listrak's guide provides details on what email marketers can do to ensure their reputation remains positive and intact.
ISPs are also using other factors, such as authentication and accreditation services, to verify the legitimacy of email senders. Listrak's deliverability guide discusses details of the different authentication methods, including SPF, SIDF, and DKIM, and the different accreditation services, such as Sender Score Certified, Goodmail, and Habeas, that are available today. The guide also discusses common content and configuration errors that cause many emails to be mislabeled as spam, and covers critical technical factors that can make or break an email campaign.
Ross Kramer, CEO of Listrak, says, "The use of spam is continuing to rise. ISPs, corporations, and end users need to protect themselves from this threat with increased filtering and blocking methods. While these procedures are necessary, many legitimate, permission-based emails are mistakenly being mislabeled as spam. It is more important than ever for marketers to pay close attention to their email messages so they can avoid the filters and reach their subscribers."
Listrak's "Outlook for 2008: Essential Email Marketing Deliverability Guide" is available for download at http://www.listrak.com/university/Email-Marketing-Deliverability/.
About Listrak
Listrak is a leading provider of hosted email marketing software that allows permission-based marketers to manage, send, track and grow their email marketing investment. Listrak services clients such as Daimler Chrysler, Motorola, L'Oreal and the Islands of the Bahamas from its Lititz, PA headquarters. Listrak was named the 2006 Small Business Technological Excellence Award winner by the Philadelphia Chamber of Commerce, the 2006 Emerging Business of the Year by the Central Penn Business Journal, a Top Fifty Fastest Growing Company in 2006 and 2005 by the Central Penn Business Journal, and the 2005 Growth Company of the Year by the Technology Council of Central PA. To learn more, visit http://www.listrak.com.
###