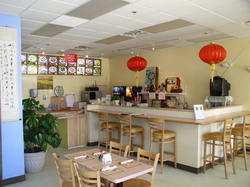 The people at Thatsbiz know how to use email marketing to increase business
Bloomfield Hills, MI (PRWEB) January 8, 2008
Frank Lee, owner of Ming's Oriental Cafe in Orion, MI was searching for ways to increase his luncheon business. His kitchen has the capacity to prepare more meals but his restaurant is constrained by seating.
"I decided to use email marketing to encourage more carry-out business with my existing customers," said Frank. "I significantly increased my carry-out business and was also able to increase the size of the carry-out orders at the same time."
Frank credits his success with email marketing to Thatsbiz. "The people at Thatsbiz know how to use email marketing to increase business," Frank adds. "I have been working with them for over a year and I am very pleased with the results."
"I told my Thatsbiz account manager that I wanted to increase my carry-out business," Frank continues. "They suggested and created a fax-in order form and an email marketing promotion message to send to my customers. The results were much better than I expected."
Dave Gonynor, CEO of Thatsbiz adds, "Frank is a busy owner and runs a great restaurant with loyal customers. We work with him to continue to build his email list and regularly email market to his customers. Frank focuses on his business and uses our team to create and send email marketing messages to his customers that deliver results."
Working with Thatsbiz, Frank regularly sends email marketing messages to hundreds of his customers. Frank says, "I now promote new menus items, specials, carry-out and catering using email for a fraction of the cost of advertising." Frank concludes, "Best of all is I don't have to touch my computer. I tell the people at Thatsbiz what I want to email market to my customers and they do the rest."
About Ming's Oriental Cafe:
Ming's Oriental Cafe began serving fresh oriental cuisine in Lake Orion, MI in 2002. Ming's adds a contemporary flair to traditional Chinese food with delicious, healthful, and authentic Chinese creations.
About Thatsbiz:
Thatsbiz provides effective and affordable Email Marketing and Customer Satisfaction Feedback services for independently owned and franchised businesses. Thatsbiz services help small business owners stretch their marketing dollars and convert customer satisfaction feedback into profits. For more information visit our Frequently Asked Questions at thatsbiz.com.
###