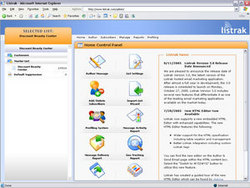 https://www1.gotomeeting.com/register/866243252 [Dynamic Content in Action __title__ Dynamic Content in Action]
Lititz, PA (PRWEB) January 10, 2008
Listrak, a leading email marketing solution provider based near Lancaster, PA, announced that it is hosting a free online seminar entitled "Dynamic Content in Action" on January 16, 2008, at 1:00 pm EST. This exciting webinar, which is a follow up to Listrak's dynamic content case study "Dynamic Content in Action: DiscountBeautyCenter.com Case Study," is hosted by Listrak's relevancy experts Ross Kramer, CEO, Matt Elliott, Director of Client Services, and Brent Shroyer, Director of Product Development.
Participants will be taken step by step through the dynamic content process of an actual email campaign - including capturing the right information during the acquisition phase, profiling and segmenting the lists, developing content blocks, creating the emails, and tracking the right metrics and clickstream data for increased profiling capabilities.
Anyone who is looking to capture additional market share in 2008 should participate in this webinar as dynamic content will help email marketers target subscribers and deliver the right information to them with each and every email communication. And, with the right tools, implementing dynamic content campaigns is easier than you might think.
Registration is free and is open to the public at https://www1.gotomeeting.com/register/866243252.
About Listrak
Listrak is a leading provider of hosted email marketing software that allows permission-based marketers to manage, send, track and grow their email marketing investment. Listrak services clients such as Daimler Chrysler, Motorola, L'Oreal and the Islands of the Bahamas from its Lititz, PA headquarters. Listrak was named the 2006 Small Business Technological Excellence Award winner by the Philadelphia Chamber of Commerce, the 2006 Emerging Business of the Year by the Central Penn Business Journal, a Top Fifty Fastest Growing Company in 2006 and 2005 by the Central Penn Business Journal, and the 2005 Growth Company of the Year by the Technology Council of Central PA. To learn more, visit http://www.listrak.com.
###