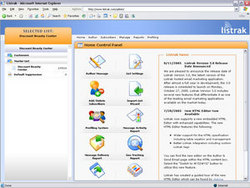 Lititz, PA (PRWEB) January 15, 2008
Listrak, a leading email marketing solution provider based near Lancaster, PA, announced that it has added the ability for system administrators to lock sections of each template so other users may only edit areas defined by the administrators. This feature allows administrators to ensure that emails sent out by other members of their marketing teams have a consistent look and feel, while making it quicker and easier for users to enter the appropriate content and send out the message to the members of their lists. This feature is especially useful for marketing agencies that are creating templates for their clients as it protects the integrity of the email template, but it is also helpful for any company as it greatly reduces the amount of time needed to train new employees who are not familiar with HTML.
Administrators may create the templates using Listrak's HTML or WYSIWYG Editor, or they may import the HTML code from another program. The administrators then need to place the opening Editable Content tag and the closing Editable Content tag within the TD tags in the HTML code at the precise location they want the users to be able to edit. Finally, the administrator needs to assign permission rights to the users who can access the template.
To create an email using a locked template, the end user simply selects the template from Listrak's Template Library. The template will load into Listrak's WYSIWYG Editor and the HTML Editor, along with the locked sections, will be grayed-out - only the editable sections remain live. Users then enter the content and the appropriate message and profile filter settings and send the email to their lists. All tracking features remain in place. For more information, contact one of Listrak's email marketing experts today.
About Listrak:
Listrak is a leading provider of hosted email marketing software that allows permission-based marketers to manage, send, track and grow their email marketing investment. Listrak services clients such as Daimler Chrysler, Motorola, L'Oreal and the Islands of the Bahamas from its Lititz, PA headquarters. Listrak was named the 2006 Small Business Technological Excellence Award winner by the Philadelphia Chamber of Commerce, the 2006 Emerging Business of the Year by the Central Penn Business Journal, a Top Fifty Fastest Growing Company in 2006 and 2005 by the Central Penn Business Journal, and the 2005 Growth Company of the Year by the Technology Council of Central PA. To learn more, visit http://www.listrak.com.
###