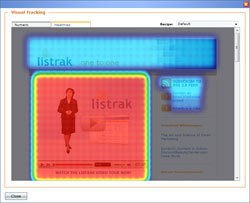 Lititz, PA (PRWEB) February 19, 2008
Listrak, a leading email marketing solution provider based near Lancaster, PA, announced the availability of Listrak 4.2, its latest version of its award-winning email marketing software solution. Listrak 4.2 features include a new visual tracking report, dynamic profiling capabilities, additional profiling filters, and support of List-Unsubscribe headers. With Listrak 4.2, organizations can target and segment their lists to an even greater level so their emails are delivered to their recipients with the right message at the right time.
Listrak 4.2 offers a new visual tracking report called a Heatmap which shows a copy of the email with an overlay of click amounts by heat index color. This gives users a quick snapshot of link performance so they may quickly adjust the position of any link that is under-performing.
Listrak 4.2's dynamic profiling offers the ability to add profiling data automatically to each contact's profile. This means that users can add important information, such as the links that a recipient clicked on, to the recipient's profile at the touch of a button instead of having to update the profiles manually. This information leads to a more-thorough understanding of each recipient's behavior. Marketers may filter the content of each email based on the profiles so each recipient only receives the information that is the most relevant to him or her. Listrak 4.2 has also updated its Profiling Summary Report so users may filter the report down to a specific profiling attribute. This allows users to target and segment their lists like never before.
Listrak 4.2 also supports Microsoft's Live Mail List-Unsubscribe Header. The change, which is being implemented in a number of ISPs, cuts down on the number of legitimate emails that are reported as Spam as the "Report Spam" button is being replaced with an "Unsubscribe" button in emails sent by senders on a recipient's Safe Sender List. Listrak 4.2 supports this by offering a way to track users that have unsubscribed using this method.
Ross Kramer, CEO of Listrak, says, "We have seen increases in click-through rates as high as 41 percent when companies target their users and segment their lists. Many of these new features offer new and improved ways of profiling lists in order to build emails that are more relevant and timely. The recipients are happy to receive emails regarding only the information they are most interested in, and senders are happy because the results are much better. Everyone wins."
To see a demonstration of these new features, please contact a Listrak email marketing expert today.
About Listrak
Listrak is a leading provider of hosted email marketing software that allows permission-based marketers to manage, send, track and grow their email marketing investment. Listrak services clients such as Daimler Chrysler, Motorola, L'Oreal and the Islands of the Bahamas from its Lititz, PA headquarters. Listrak was named the 2006 Small Business Technological Excellence Award winner by the Philadelphia Chamber of Commerce, the 2006 Emerging Business of the Year by the Central Penn Business Journal, a Top Fifty Fastest Growing Company in 2006 and 2005 by the Central Penn Business Journal, and the 2005 Growth Company of the Year by the Technology Council of Central PA. To learn more, visit http://www.listrak.com.
# # #