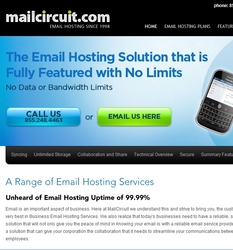 Competition has certainly intensified in the last 7 years with the advent of Google Apps...
New York, NY (PRWEB) April 11, 2011
Mailcircuit.com today announced it is re-entering the email hosting landscape with the launch of Unlimited Sized mailboxes for all email hosting plans! Once a powerhouse in the industry Mailcircuit was famous for developing the Challenge and Response Email System which enabled corporate email to be 100% Spam-Free.
Ex CEO and current consultant Stan Weatherby Comments "working with these guys reminds me of the heady days of Mailport when we pioneered the challenge & response system. It was definitely an exciting time for us, and I cant wait to see what these guys can do in today's environment."
The Mailcircuit team anticipates a challenging road ahead. Lara Johnson Head of Marketing "The competition has certainly intensified in the last 7 years with the advent of Google Apps and the expansion into our market from non-core providers such as Godaddy.com. I think our strength lies in our single minded focus to become the number one email hosting company in the world and nothing else."
Mailcircuit.com services will include email hosting to small, medium and enterprise level customers plus a separate division for email hosting resellers. "we have recently been focusing our efforts on developing a state of the art reseller program that offers unlimited hosting in a white label environment." comments Lara Johnson.
Secondary markets have also become vital in this day and age and to that end 'Email Marketers' with large outgoing emails lists upward of 10,000 emails have also become a significant category. "We are now offering dedicated channel specific plans that maximize performance and value for the customer." comments Lara Johnson.
Mailcircuit.com is one of the worlds leading Email Hosting Providers. For more information visit our website at http://www.mailcircuit.com.
###