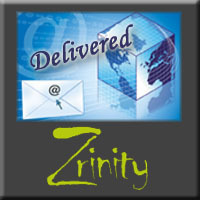 I already know I can trust the Zrinity team to deliver on the results promised since we have known the team for over seven years.
New York, NY (PRWEB) November 2, 2008
Mother Nature, a New York City based "Natural Products" online retailer, has been working with the Zrinity team as online business consultants and a web-based software system provider since 2000. Oliver Clark, Chief Technology Officer, Mother Nature, recently selected Zrinity as his on-premise email marketing system. Mr. Clark commented that he selected Zrinity because, "I already know I can trust the Zrinity team to deliver on the results promised since we have known the team for over seven years."
The key functionality provided by the Zrinity system according to Mr. Clark is, "The deliverability metrics. The metrics are very comprehensive and without the metrics provided by the Zrinity system we couldn't really know how effective we are and if we do have any trouble, at which point in the email delivery process we are having the problem."
Mr. Clark also commented, "I also know that the Zrinity staff are experts in ColdFusion and many other languages, so if I have any coding questions I am in good hands. This increases the ease of implementation and reduces the time to full implementation. The Zrinity team built this system to be very user friendly. They built it as I would have if I had the time to build my own in-house system."
According to Rob Thrasher, Marketing Director at Zrinity, "On an ever-increasing basis IT people come to us who don't have the time and resources to maintain their own in-house email system. They also have a perception that there are inherent security risks that exists with allowing business-critical data to be outside their network and firewall. It is not business savvy to reinvent the wheel and try to produce your own software, or manage some old system in-house. Nobody ventures out to rebuild a word processor, but yet those same people sometimes try to build and maintain a business-critical platform. Oliver understands that he doesn't work for a software company, thus he decided to license our software for his email delivery needs."
Zrinity's on-premise email delivery system was also recently chosen by Analytics Approach, a California based email marketing firm. Shawn Pickering, Analytic Approach Owner, explained recently: "The Zrinity sales team was extremely helpful. They were the only sales team who took the extra time to understand exactly what I was trying to accomplish and even helped me build a full plan to best utilize their services for the best value I could attain. They are a highly valuable addition to my team. I wanted to send emails as fast as possible and also have the ability to track bounces and add them straight into my database and Zrinity had that capability. Zrinity offered a great administrative interface to monitor send speeds, IP's, and so much more. The final decision was made when we realized that no other email company, big, small or strong, compared with Zrinity when I evaluated useful features, support, team expertise and the price. Best decision we ever made!"
Zrinity is a leading provider of on-premise email servers and list management systems for Global 2000 businesses, email service providers and many other firms. Zrinity provides its customers with high-performance email delivery servers and systems. Zrinity, in Central New York, serves a wide variety of industries such as banking, education, government, health care, retail and B2B. Customers include The Pentagon, PGA, Boeing, Pfizer, Duke University, Penn State and more.
Mother Nature, founded in 1995, is an online provider of natural health, wellness and beauty products. Mother Nature is also the largest natural health library on the Web.
# # #