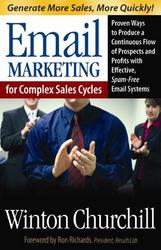 Email Marketing for Complex Sales Cycles
Los Angeles, CA (PRWEB) October 16, 2007
Winton Churchill is spilling the beans on how email marketing can revolutionize sales efforts. He is bringing a free session to New York City. Serious about sales? Plan now to attend this groundbreaking event from the founder of the Churchill Method, a proven way to increase sales, improve sales prospect quality using better lead generation and boost revenue. Plan to be at the Friars Club on October 23, 2007 at 6:00 pm. Advance registration is required. Book now before the event is full.
"The email marketing session is aimed at business owners, CEOs, sales & marketing executives with complex sales cycles," Churchill said. "Most business owners, CEOs and sales & marketing executives continue to be frustrated with their lead generation efforts. I'll show them how to improve."
Churchill's session will show dedicated sales pros:

how to use email marketing as a vital tool in their sales efforts
how to analyze a sales cycle for critical inefficiencies
three keys to improving the quality of lead generation
three little-known conversion tactics that turn leads into revenue
the one mistake that dooms most lead generation to anemic results
two unconventional ways to shorten a sales cycle
Winton Churchill sheds refreshing new light on the critical mistakes small to midsized companies make during the sales cycle. He'll demonstrate ways businesses can develop a strategy and action plan for improving both the quantity and quality of sales prospects while at the same time shaving hunks of time off their sales cycles.
"By the end of the night, I'll show you where you can adjust your strategy and tactics to help you develop a process that is both proprietary, and devastatingly effective," said Churchill.
Make plans now to attend if:

Your sales team complains about bad lead quality.
You don't see the growth in your business that your competitors are enjoying.
Your sales people spend too much time scraping up prospects because your lead generation process doesn't keep them busy enough.
Your sales people are swamped with leads but don't seem to close them.
You have a complex offering that requires an amount of education and analysis to buy.
New sales people have a very tough time getting on a good sales track.
There are prospects in your sales funnel that you know will never buy from you.
The lead programs that marketing provides are not "appreciated" by the sales team.
RSVP now for this important event. By telephone: Gil Effron at 800-226-2428, by email: Gil(at)StrategiesForGrowth.net
When: Tuesday, October 23, 2007, 6:00 p.m. - 8:00 p.m. A reception follows Winton's hour-long talk.
Where: Friar's Club, 57 East 55th Street, New York, NY 10022
Sponsorship:
Event is Free courtesy of:
Gotham City Networking & Strategies for Growth
Reservations required and space is limited. This event will fill up.
About Winton Churchill
Winton Churchill has more that 25 years experience developing, planning, organizing, and executing sales and marketing programs targeted in markets with complex sales cycles. His opinions are frequently quoted in The Wall Street Journal, Marketing Sherpa, Inc. Magazine, SoftwareCEO, Sales & Marketing Management and a number of industry related business, Internet and software related publications. Churchill is the author of the upcoming book "Email Marketing for Complex Sales Cycles", coming in November.
He has excelled in a variety of senior sales and marketing positions with top name companies. He was vice president of sales and marketing for Contact International Corporation, Inc., the developers of ACT! software, the world's leading sales contact management software, vice president of marketing and OEM Sales for Spinnaker Corporation, and was involved in a variety of senior sales and marketing roles for Apple Computer, Oracle Corporation, Sun Microsystems, Legato Systems, and Netfish Technologies (now IONA).
Winton is a Past President of the South Bay Association of Chambers of Commerce. The SBACC serves 18 Chambers and more than 53,000 businesses in coastal Southern California.
In addition to his impressive professional achievements and sage advice for email marketing and lead generation, his name is frequently a point of curiosity for his readers and audience members. For a more complete answer to your questions about that go to: http://www.churchillmethod.com/name.html
###