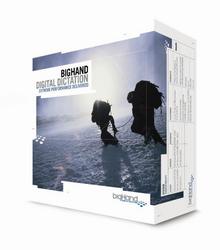 Best Legal Office Technology System 2004
Chicago, IL (PRWEB) August 29, 2007
BigHand, the Microsoft Gold Certified partner specializing in voice productivity for professional service organizations, today announced that clients who have implemented the BigHand3 EmailGateway module have reported it to be a highly beneficial mobility enhancement. The EmailGateway add-on, first released in late 2006, is already licensed to 61 firms, and provides a flexible and effective means of remote digital dictation without the reliance on laptops and traditional dictation hardware.
BigHand's continual drive to enhance mobile voice productivity for lawyers has been demonstrated by releasing legal industry firsts such as EmailGateway, Citrix Remote Access Dictation, and most recently, BlackBerry Dictation. These innovations have led to BigHand's 'Best Use of Technology in Business' Award 2007 and are closely aligned with mobility trends in law firm environments. According to the 2007 ILTA* Technology Purchasing Survey, mobility is a major law firm IT priority; over the last three years, the top technology purchases cited by the 126 ILTA firms responding to the survey were mobile devices (primarily new BlackBerry purchases or upgrades), wireless cards for attorneys, new laptops, and remote accessibility.
Barry Smail, Systems Administrator at Russell Jones & Walker, a top 100 UK law firm, who oversaw the BigHand EmailGateway project, commented: "We have nine offices and over 300 users successfully utilising digital dictation workflow on a daily basis. The EmailGateway allows our users to connect remotely if they don't have their work laptop or regular dictation device with them. Any .wav or .dss file, even one recorded on a smartphone, can be emailed in using something like Hotmail and the Gateway picks it up and securely distributes it into the workflow, where it can be tracked and managed. It gives them that additional means by which to remain productive while on the move, and is a nice fall back option."
The popularity of BigHand's EmailGateway module demonstrates that true voice productivity requires multiple remote connection options for different types of organizations. BigHand's Chief Technology Officer, Simon Lewis, described: "Different types of user require different mobility options, and where a user is located at any given time can obviously limit the connectivity on offer. Back in March 2004 BigHand was first with Citrix Remote Access compatibility, in Sept 2006 the EmailGateway module was a unique release and recently we have led the way with our BlackBerry development. With so many choices in term of mobility, and PDA clients attracting attention, we thought it would be worthwhile surveying clients to check on the adoption of EmailGateway. We were delighted to find it has proved to have been extremely well received and perceived as a very useful tool in certain situations."
BigHand Email Gateway is a module for BigHand3 which enables automated submission of email attachments into the digital dictation system. This is particularly useful for authors who are on the move and use mobile dictation devices. Email Gateway enables you to submit dictations into the BigHand3 workflow from any computer that has an internet connection, without the need for any BigHand client software. The author simply connects their dictation device to an internet enabled computer, uploads the dictations (.wav and .dss formats are supported) and sends an email to a specific address.
Craig Ostvolden, IT Analyst at US law firm Leonard, Street and Deinard added: "BigHand3 has been a great success and easy to implement, train and support, plus we have their mobility modules such as Telephony and EmailGateway. One useful feature of EmailGateway is that it allows us to retrieve voice messages from our voicemail system, import them into BigHand3 so they can be transcribed faster than ever before. Being able to have those voicemails enter the workflow, and therefore be subject to priorities and rules, certainly boosts efficiency. The EmailGateway module has also been great for the attorneys that might be at an airport or a hotel and unexpectedly find they have to create dictation. Once submitted, the secretary transcribes it and mails it off to the client meeting the demands of our clients. The flexibility of these mobility modules keeps our clients satisfied by being able to create dictations anywhere in the world."
For more information, please go to http://www.bighand.com
*Stands for International Legal Technology Association (ILTA)
About BigHand
A Microsoft Gold Partner based out of Chicago, London and Sydney BigHand is the leading digital dictation vendor in the global legal sector, maintaining the five largest sites at international law firms and with more legal installations in total than all other suppliers combined. BigHand3 was nominated as "Best of Breed System of the Year" at the Legal Technology Awards 2007. BigHand was named as the fastest growing legal software developer in The Sunday Times Microsoft Tech Track 100 league tables for both 2006 and 2005. BigHand was also recognized by Deloitte as one of the 500 fastest growing software vendors in Europe in 2006. Additionally BigHand was voted "Best Legal Office Technology System 2004" from votes from over 14,000 lawyers and IT managers across the legal sector at the LOTIE Awards. BigHand's leading product also won the Society for Computers & Law IT Award in 2003 for "the most outstanding application of information technology to the law". Further information is available at http://www.bighand.com
Contacts:
Dan Speed, BigHand. Website: http://www.bighand.com Tel: (847) 706 6706
Jobst Elster, Envision Agency Website: http://www.envisionagency.com Tel: (85)385-4599
###