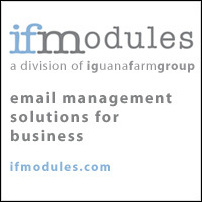 Hobe Sound, FL (PRWEB) March 27, 2007
IFModules (ifmodules.com), a provider of user friendly, web-based email management solutions for businesses, recently started an Email Management Blog as a service to eMail Manager customers and businesses interested in discussing business email, hosted email applications or web-based software issues. You can read the Blog and related articles at emailmanagement.blogspot.com.
The primary goal of the Email Management Blog is to provide existing eMail Manager customers with tips and tricks on how to use the eMail Manager application. The blog is also a great source for finding links to related blogs and important news on managing email and other information on the web. Readers are encouraged to post comments and to ask further questions about existing articles and even recommend additional topics. Where does IFModules get their content inspiration? From the customers of course, and from various news feeds. We keep track of frequently asked questions from customers and use that as our primary catalyst for posting articles.
Current Blog topics include: Spam and Email Management, Great Blog Finds, Digital Bedouins, User Management, Rules Management, Fast Emails Responses = Happy Customers, and more.
Blog Subscriptions are available via FeedBurner at: http://feeds.feedburner.com/EmailManagement
ABOUT IFMODULES
IFModules email management solutions provides businesses with web-based email response management and email marketing software (eList Manager) so that they can maintain better email control, decrease email loss, improve email response rates and get the most out of email marketing campaigns.
IFModules is a division of iguanafarmGroup a full service web technology group offering custom and off-the-shelf development, design and email business solutions for online and traditional media initiatives. iguanafarmGroup has offices in Hobe Sound, FL, Seattle, WA and Costa Rica.
CONTACTS
For additional information about IFModules business solutions or iguanafarmGroup please contact:
Jaime Pereira, Managing Partner
IFModules, a division of iguanafarmGroup
Phone: 877-848-1310, Fax: 877-467-8128
Websites: http://www.IFModules.com and http://www.Iguana-Farm.com
# # #