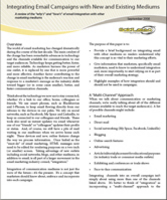 Many graphic designers are unaware of the technical differences between websites and email
Gaithersburg, MD (PRWEB) March 19, 2010
Gold Lasso, a leading email service provider (ESP), has released a white paper advocating the increased awareness of email rendering challenges. Also discussed are the constraints of designing for emails rather than websites, and what designers should do to manage them. The white paper offers 13 solutions for effective email marketing design, helping to drive campaign ROI through better email rendering.
"Many graphic designers are unaware of the technical differences between websites and email," said Michael Weisel, co-founder and CTO of Gold Lasso. Weisel continued, "By carefully following design best practices, email marketers can avoid confusing recipients when email clients render messages incorrectly. This problem occurs quite often."
One example cited is when a campaign is created using a company's web design elements. This causes the layout of the email shifts so dramatically by the time it reaches the in-box, the recipient deletes the email without reading it and without clicking links. Subsequent campaigns from the same sender are often deleted before being opened, or the individual opts-out because those messages provide little value. Gold Lasso's paper offers key insights into helping marketers and designers avoid these pitfalls.
The goal of releasing this white paper, entitled "Tackling Email-Rendering Challenges to Boost Campaign Results," is to help educate the online marketing community about designing for the in-box. The paper provides discussions of poorly-rendered email design elements and analyzing where problems can be avoided.
Gold Lasso's "Lucky 13" challenges and solutions include:

Which web and desktop-based email applications are most limiting and why
How to address background image and custom design element complications
How to design for narrow windows such as mobile web browsers and preview panes
When to plan for image suppression due to security settings
Why limits exist with fonts and style
Gold Lasso's effort to educate email marketers is part of an overarching commitment to help boost campaign results across the industry. To download the white paper, visit http://www.goldlasso.com and register with the Learning Center.
About Gold Lasso
Gold Lasso, Inc., located in Gaithersburg, MD, is one of the fastest growing email service providers, specializing in solving the online marketing challenges of middle and enterprise marketplaces. Gold Lasso provides on-demand e-mail marketing technology and services, including eLoop, its modular solution that enables clients to collect and manage data, streamline outbound messaging and access reporting features. Gold Lasso's mission is to leverage Internet technology and complex database techniques to develop feature rich, cost-effective products and services for the professional marketer. Gold Lasso's philosophy is that providing a quality product, coupled with incredible service is the best way to grow a company.
# # #