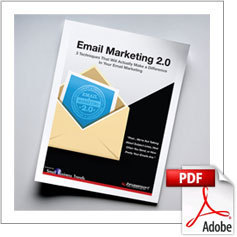 Phoenix, AZ (Vocus) March 25, 2010
Every small business owner wants better conversion rates when it comes to their email marketing campaigns. They want to see their marketing efforts rewarded with increased sales. But so few people actually know how to use email marketing effectively. They spend hours on things (like subject lines) that yield small improvements. Meanwhile, huge opportunities are being missed.
Infusionsoft changes all that with its unique approach to marketing called Email Marketing 2.0.
In this free report get answers to the most common email marketing questions:

Why most entrepreneurs are sabotaging their own efforts
The one secret to sending messages your contacts want to receive
How to send personalized, targeted emails to thousands of prospects
Why email should never stand alone
3 steps to instantly improve your email marketing results
You can keep spending time scanning your documents for SPAM words, or you can actually grow your business with Email Marketing 2.0. You decide.
To download the free report and for more information about how small businesses can benefit from Email Marketing 2.0 visit infusionsoft.com/em2.0.
About Infusionsoft
Infusionsoft, the leader in Email Marketing 2.0, empowers small businesses to grow smarter and faster through targeted marketing that automatically adapts to prospect and customer behavior. Infusionsoft is the first to marry email marketing and CRM in one app that's driven by a powerful automation engine that allows entrepreneurs to market more effectively so they can grow their small businesses. The privately held, three-time Inc. 500 company is based in Gilbert, Ariz. and is funded by Mohr Davidow Ventures and vSpring Capital. For more information, visit http://www.infusionsoft.com.
About Small Business Trends:
Small Business Trends is an award-winning online publication for small business owners, entrepreneurs and the people who interact with them. Small Business Trends touches over 300,000 readers monthly through http://www.smallbiztrends.com and associated websites, as well as RSS feeds and Twitter feeds. Small Business Trends content is syndicated to other websites and newsletters. Small Business Trends was one of the original blog contributors at the American Express OPEN Forum.
Contact Information:
LaunchSquad
415-625-8555
Infusionsoft(at)LaunchSquad(dot)com
###