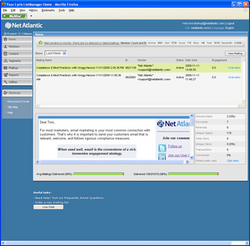 Our partners can avoid the costs of development and support for their own solution, and provide their customers the best commercial email software platform and server management experience available
Salem, MA (Vocus) December 3, 2009
Advertising agencies, interactive marketers, web hosting providers and other technology companies can now add to their revenue stream by offering email marketing services from email service provider Net Atlantic. The company's newly launched Partner Program offers several best-in-class opportunities for companies who want to offer premier email marketing solutions.
The Partner Program includes two new editions of its Email Marketing Suite; Agency Edition and Reseller Edition. The Agency Edition allows advertising agencies and consultants to include email marketing as part of their own advertising packages with complete control and tracking tools to manage campaigns. The Reseller Edition allows companies such as web hosting providers to resell email marketing services to their own customers, with a fully customized interface, co-branded training and promotional materials, and volume discounts.
There are two more ways to join Net Atlantic's Partner Program through the Affiliate Network and as a Technology Partner. Affiliates send new leads and customers to Net Atlantic and receive a competitive commission. Technology Partners reach Net Atlantic's customers with their own services, such as list health auditing, video hosting, software integration.
"We have been part of the Net Atlantic Partner Program since its inception and it really is as close to a partnership as you can get. With their technology and experienced support team available to us, Net Atlantic has really assisted us in providing excellent service to our clients," says Jess Dolgin, CEO of the J Media Group, a leading advertising and niche market service provider.
"Our partners can avoid the costs of development and support for their own solution, and provide their customers the best commercial email software platform and server management experience available," said William Reich, President of Net Atlantic. "With our versatile email marketing software, reliable delivery and customer dedication, we have a rock-solid foundation for partners to build on."
Find out more about Net Atlantic's Partner Program at http://www.netatlantic.com/partnerprogram.
About Net Atlantic
Established in 1995, Salem, MA - based Net Atlantic was one of the first email service providers and Web site hosting companies. Net Atlantic's powerful and versatile email communications platform helps businesses, marketers and non-profit organizations get beyond email marketing to create an immersive customer experience. To learn more, visit Net Atlantic's website at https://www.netatlantic.com.
Contact:
Thomas Bishop
Marketing Manager
Net Atlantic, Inc.
Copyright © 2009 Net Atlantic, Inc.
###