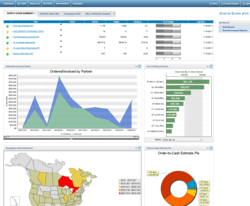 Context! 5.2 moves the bar for business intelligence software by providing true, 100% point-and-click, self-service and performance without the costly need for locally installed software - all without the risk associated with Software as a Service.
(PRWEB) November 29, 2011
EMANIO Inc. today announced the immediate availability of it's Context! version 5.2. This release continues to enhance the 100% browser-based experience that has made Context! a powerful offering for mid-sized organizations and enterprises alike looking to increase self-service reporting while maintaining tight control over costs.
The 5.2 release continues to enhance the capabilities of this 100% browser-based dashboarding and data discovery solution by adding support for HTML 5 as well as a number of new data visualization options and features. "The 5.2 release brings this platform to a new level of ease of use and capabilities" said Mr. Walter Paliska, EMANIO Vice President of Marketing & Analytics. "Context! 5.2 is the only 100% point-and-click dashboarding and analysis platform available that relies purely on a browser-based experience - without sacrificing feature richness or performance." Continued Mr. Paliska.
Context! 5.2 provides additional visualization capabilities as well as adding support for HTML 5 based visualization and interactivity capabilities. The 5.2 release also further enhances compatibility with XMLA-based data cubes as well as new features designed to make system management easier and faster.
About EMANIO
EMANIO combines almost 20 years of data integration experience with highly interactive and intuitive business intelligence, analytics and visual data discovery software solutions that enable large and mid-size organizations to make better business decisions quicker. EMANIO's Context! and Insight! products are highly intuitive, easy-to-use , browser-based business intelligence (BI), dashboarding and predictive analysis solutions, designed using a state-of-the art, zero-footprint architecture for rapid deployment, fast ROI and low cost of ownership.
Visit http://www.EMANIO.com to learn more.
© 2011 EMANIO Incorporated. All rights reserved. EMANIO, the EMANIO logo, EMANIO Context! and Insight! are trademarks or registered trademarks of EMANIO Incorporated. All other trademarks are the property of their respective owners.
###