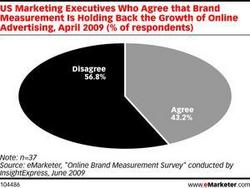 Every client is a branding client, until they get their first tracking report. Then they turn into direct marketers.
New York, NY (PRWEB) July 7, 2009
What are the fundamental problems with online brand measurement today? eMarketer posed that question to a few dozen experts and the responses were, predictably, all over the map. And that fact alone -- that the players can't agree on where to begin -- is the overarching problem. The lack of standardized metrics is keeping online advertising from reaching its full potential.
While 56.8% of respondents did not agree that brand measurement was the single biggest problem holding back online advertising, their answers for alternative obstacles varied. In general, they centered around three broad themes: too much focus on direct response, lack of creativity and lack of understanding about how digital works.
Joe Laszlo, director of research at the Interactive Advertising Bureau (IAB), said, "There are two big problems: I'm hearing from our publisher members that there is a kind of panel fatigue among people who are asked to take online surveys that are quantifying brand impact."
"Panel recruitment and response rates are issues," Mr. Laszlo added. "Another issue is an assumption that the Internet is not good for branding -- there is a continued lack of awareness on the part of marketers and agencies."
Michael Mendenhall, CMO of Hewlett-Packard, said, "Marketers monitor the front end and the back end so they see clickstreams and commerce. The difficult part is the qualitative part in between, which is the level of engagement.
"The challenge is to begin to build technological capabilities that allow them to see the complete digital footprint that a consumer leaves when they engage with the brand and then be able to address that consumer in a relevant way -- behaviorally, contextually or both," Mr. Mendenhall added.
"I think it's not having those foundational reach, frequency and GRP metrics," said Young-Bean Song, senior director of analytics at Atlas Institute, Microsoft Corp.'s digital marketing and media solutions provider. "You will never see P&G and Unilever spend more than single digits [millions] unless we give them reach, frequency and GRPs."
"Their entire business model is based on media mix models where those are the inputs and the outputs," Mr. Song said. "Branding is a longer-term proposition. It's not about recalling a specific ad you saw 5 seconds ago. It's about whether people feel better about a brand or not."
The focus on direct response causes many marketers to only look at search, and according to Atlas Institute, if marketers only look at search, which is often the "last ad clicked," they are missing 94% of their engagement touchpoints.
A study by iProspect and Forrester Consulting showed that when Internet users were exposed to a promotional ad, less than one-third (31%) of them clicked on the ad itself. However, a plurality did take some other form of action. People went on to search for the product, brand or company using a search engine; typed the Web address directly into their browser and navigated to the advertiser's site; or investigated the product, brand or company through social media. This phenomenon has been referred to as a view-through conversion rather than a click-through conversion.
In other words, if you look only at clicks, you're considering only a tiny fraction of the economic value of an online advertising campaign.
Why have clicks become the default standard for online brand measurement? Very simply, because they are so easy to measure. Jim Meskauskas, vice present/director of online media at Omnicom-owned ICON International, put it this way in an e-mail to eMarketer: "Every client is a branding client, until they get their first tracking report. Then they turn into direct marketers."
"We don't hold traditional media to that same level of accountability," noted the chairman and co-founder of comScore, Gian Fulgoni. "We don't say you need to immediately pick up a phone and call somebody if you see a TV ad or if you're listening to a radio ad or read something in a magazine. Why should the Internet be measured by this immediate-response metric called the 'click'?"
Cumulative impressions of a brand build up over time online, and the last click should not be the Holy Grail for brand measurement. Display complements and aids search, and affects online and offline purchases. To achieve online branding success, marketers must not ignore the creative -- remember that the size of a display ad matters and to focus on targeting and relevance.
The eMarketer special report highlights five broad approaches as key to moving forward on the online brand measurement front.
"The solution we believe quite strongly in is that measures of advertising online should be time-based measures rather than impression-based measures," said Jon Gibs, vice president, media analytics at Nielsen Online. "Instead of buying 100 million impressions on a Website, it would be buying X% of a person's time."
Branding online and direct response should be separate. "Building on the GRP model as a foundation, the next step is to overlay the data that is unique to the online space and provides a digital footprint measuring how the consumer is engaged with the brand over a period of time," said Geoff Ramsey, co-founder and chief executive at eMarketer and author of the report "Online Brand Measurement: Connecting the Dots." "This could include time spent as well as a host of other engagement metrics. The goal is to move from media ad buckets and data silos to true integration -- measuring across media."
Datran Media sponsored the report conducted independently by eMarketer.
There is no silver bullet. Hard work and careful planning will be necessary to reinvent online brand measurement and coordinate it seamlessly with offline measurement. There are no shortcuts to success.
To download the report, see survey results, watch video interviews, read interviews and Q & A's click on the link. Online Brand Measurement Report
About Datran Media
Leading digital marketing technology company Datran Media underwrote distribution of the eMarketer report to advance more effective and shared understandings around online brand measurement and total brand measurement. According to Scott Knoll, Datran Media's Senior Vice President and GM of the company's Aperture product line, "To date, definitions and perceptions of online brand measurement have been primarily self-centered and siloed based on the organizations discussing them and we've lacked broader research that aggregates the various stakeholder opinions and draws out the core issues as they correspond to both today's and tomorrow's marketplace. This eMarketer report does an outstanding job of framing the argument and issues and pointing in the direction of the collective understandings we must work together to drive. We are very proud to sponsor the report's distribution."
About eMarketer
In the fast-changing world of digital marketing and media, it's almost impossible to get an unbiased perspective on the conflicting data and the newest developments. Unless, that is, you rely on eMarketer's aggregation and analysis of more than 3,000 worldwide sources -- assembled in one easy-to-search database of reports, charts, videos, articles and interviews.
###