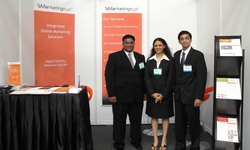 Hosting a trade booth and conducting a workshop at the Travel Distribution Summit - Europe for the first time, we were able to generate many new sales leads and increase the awareness of both the company as well as the need for effective Online Marketing
Colombo, Sri Lanka (PRWEB) July 18, 2009
eMarketingEye (http://www.emarketingeye.com) one of Asia's most renowned Online Marketing specialists in the Travel and Hospitality sector attended the Travel Distribution Summit - Europe 2009 as part of its expansion strategy.
The Travel Distribution Summit - Europe held in London this year, attracted close to 2000 attendees, where industry leading strategists and innovators discussed the future of travel distribution at several conferences and discussions held during the event. A spotlight was held on the prevailing economic crunch and its impact on the travel industry. Increasing Internet usage patterns suggest the average traveller is heavily dependant on the Internet to keep them up to date, always hunting for the best deal possible. In a buyers market, Search Engine Optimization is now more important than ever to ensure increases in visitor traffic. People will always continue to travel, but will spend a little extra time making an 'informed', price sensitive choice.
"Hosting a trade booth and conducting a workshop at the Travel Distribution Summit - Europe for the first time, we were able to generate many new sales leads and increase the awareness of both the company as well as the need for effective Online Marketing," said Rajitha Dahanayake, Founder CEO of eMarketingEye. "As the Internet continues to be the most cost effective distribution channel available to hotels and travel companies, the Travel Distribution Summit is now more important than ever to the industry", he also added.
For the past eleven years the Travel Distribution Summit has converged to create platforms for professionals from all sectors of the industry to learn and debate about the future of selling travel on the Internet. The summit is a global event held annually in all major regions of the world with India recently being added to the list.
Search Engine Marketing has propelled the Online Travel Industry into an era where your average tour operator and travel agent are indistinguishable in comparison to online service providers, to the typical consumer. Consumers heavily rely on travel reviews and results shown on Google, Yahoo and other search engines such as MSN and Microsoft's latest offspring Bing. A well structured Search Marketing Campaign is the new age communication tool to the travel consumer. Successfully catering to this growing market, eMarketingEye has quickly become one of the most respected names in Online Marketing in Asia. With over 300 hotels and multiple awards, the company is now focused on growing its operations in the European market with multiple strategies in place to consolidate its position.
# # #