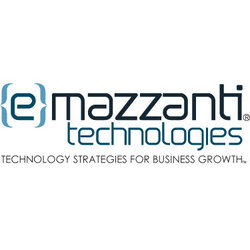 Previous operating systems were really designed for computer people by computer people. With Windows 7 Professional, Microsoft understood what the consumer wanted and what that experience needed to be like.
Hoboken, NJ (PRWEB) August 18, 2009
Today, eMazzanti Technologies, a computer networking firm that offers technology strategies for business growth, announces its participation in a customer success story sponsored by Microsoft. The customer success video showcases the benefits and features of Microsoft's new operating system, Windows 7 Professional, and how it helps eMazzanti's client base. Bergen County Camera (BCC) is one such client, and their experience is one that eMazzanti plans to reproduce in all customers' transition to Windows 7.
For Bergen County Camera, Windows 7 Professional enhances the role of the PC in its business environment. This story details how Bergen County Camera's productivity expanded from its move to Windows 7. Previously, PCs for BCC were very independent; point-of-sale terminals (POS) existed in the front area, while separate workstations in the back were for tasks such as photo recovery, enhancements, backups, and taking customer orders. With eMazzanti's consultation and implementation of Windows 7, Bergen County Camera is now able to boost productivity in a more integrated environment. The workstations and POS terminals are now single computers in the front area. This translates to a better experience for the customer, as BCC's employees are now constantly visible and available for assistance on the sales-floor. Integration of equipment is one major goal for eMazzanti, as less hardware overhead decreases costs while increasing functionality.
Bergen County Camera is also very impressed with how eMazzanti streamlined Windows 7 in their environment. Time is now spent using hardware as opposed to troubleshooting it. In the past, unrecognized hardware was a frustrating experience which involved searching for manufacturer CD's in an effort to install drivers or software. Many times this would lead to a support call for assistance in installing the new piece of hardware. Windows 7's built-in support for hardware is one feature that boosts the streamlined feel that customers require. Bergen County Camera appreciates how much this has helped its business in a time where cameras and computers are almost inseparable. The meshing of photography and technology has grown in the last decade, and eMazzanti has been there with BCC making recommendations along the way. As Carl Mazzanti, CEO of eMazzanti Technologies, states, "Previous operating systems were really designed for computer people by computer people. With Windows 7 Professional, Microsoft understood what the consumer wanted and what that experience needed to be like."
End-users are not the only ones seeing substantial improvements from this new operating system. From an IT support perspective, Windows 7 Professional is an evolved operating system which allows better service to eMazzanti's clients. With the Problem Step Recorder, support calls are now easily recorded step-by-step to allow for better reproduction of the error and precise action towards assistance of the end-user. This program also doubles in functionality as a training tool for eMazzanti's clients. Tutorials can be recorded and emailed to a client for playback whenever necessary. This decreases troubleshooting on both ends of the experience and boosts gains in productivity.
eMazzanti Technologies and Bergen County Camera have always shared a common goal: providing class-leading customer service. Bergen Country Camera knew that there was more they could do to exceed customer expectations and were confident that eMazzanti Technologies could reach that goal. Microsoft only chooses the best to showcase their new software and eMazzanti Technologies has the credentials to live up to that expectation, such as being a Microsoft "Value Added Reseller (VAR) Accelerator Top 30 from Delaware to Maine".
eMazzanti relies on its clients' success as an indication of its own achievements. Windows 7 epitomizes that ideology, providing benefits to both the customer and eMazzanti. As John Tworsky, General Manager of Bergen County Camera, said, "The partnership between Bergen County Camera and eMazzanti Technologies has proved to be immensely successful. It's amazing what Windows 7 and eMazzanti has allowed us to accomplish in such a short time." Based on this project's results, both eMazzanti and Microsoft have high confidence that the Windows 7 launch will exceed expectations. eMazzanti Technologies is particularly excited that the ongoing relationship with Microsoft will continue to maximize value for its customers. See this customer success story and others at our case study page.
About eMazzanti Technologies:
eMazzanti Technologies works with businesses to provide strategies for growth through the use of intelligent technology tools. From business process analysis to network design, security planning to preventative maintenance, the firm's services all aim to reduce costs, mitigate risk and drive revenue for our clients. eMazzanti Technologies also offers an extensive portfolio of network products from the leading technology manufacturers. The best advocates for eMazzanti Technologies are our clients. The firm services businesses throughout the New York Metropolitan area and in 3 countries worldwide ranging from home office environments to multinational corporations with mission-critical needs. These organizations rely on eMazzanti as their technology management partner. As our clients grow and their needs change, our flexible, scalable model adapts to meet the aspirations of their businesses. We form long-term relationships with clients that value stability and reliability in their IT partners. An innovative and comprehensive approach to technology services has earned eMazzanti the trust of a rapidly growing client base and recognition by many of the industry's foremost publications. For more information, please visit http://www.emazzanti.net.
All product and company names herein may be trademarks of their respective owners.
For more information: Jennifer, eMazzanti Technologies, 201.360.4445
###