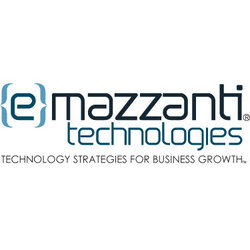 Hoboken, NJ (PRWEB) July 31, 2007
eMazzanti Technologies was honored with the Small Business Regional Award for its competency in Networking. Selected from an elite group of Microsoft Business Partners, eMazzanti has shown its skill, knowledge and commitment to help implement technology solutions that match a wide-range of business needs.
The Microsoft Partner Program Regional Awards recognize those Microsoft partner companies that have developed and distributed exceptional solutions based on Microsoft technology throughout the year. Awards were given in five different categories to companies selected from over 375 partners in the New York Metropolitan Area. At a ceremony hosted at the Microsoft sales center in New York City, eMazzanti was recognized as the winner of its category.
"The quality level of solutions and services offered by our New York Metropolitan Partners is impressive. eMazzanti clearly demonstrates professionalism in its implementation of Microsoft-based networks. We are proud of the work achieved by our partners and of the impact our system has had on the market," commented Traci Wilkowski, Partner Account Manager for New York & New Jersey
It is a great honor for us to receive this award from Microsoft as we continue to focus on expanding our capabilities in support of Microsoft-based solutions," declared Jennifer Mazzanti, president of eMazzanti.
eMazzanti's corporate philosophy is to reduce cost, mitigate risk and drive revenue for all of its clients. The Microsoft Competency Award is a public acknowledgment of eMazzanti's efforts to use technology for the betterment of its customers.
"Microsoft is one of our largest strategic partners and their products are prevalent throughout our customers' environments. As such, we continue to expand our scope of technical resources to help customers optimize their networks, concluded Jennifer.
About eMazzanti Technologies
eMazzanti Technologies works with businesses to provide strategies for growth through the use of intelligent technology tools. From business process analysis to network design, security planning to preventative maintenance, the firm's services all aim to reduce costs, mitigate risk and drive revenue for our clients. eMazzanti also offers an extensive portfolio of network products from the leading technology manufacturers. The best advocates for eMazzanti Technologies are our clients. The firm services businesses throughout the New York Metropolitan area and in 3 countries worldwide ranging from home office environments to multinational corporations with mission-critical needs. These organizations rely on eMazzanti as their technology management partner. As our clients grow and their needs change, our flexible, scalable model adapts to meet the aspirations of their businesses. We form long-term relationships with clients that value stability and reliability in their IT partners. An innovative and comprehensive approach to technology services has earned eMazzanti the trust of a rapidly growing client base and recognition by many of the industry's foremost publications. For more information, please visit http://www.emazzanti.net.
About Microsoft
Founded in 1975, Microsoft (Nasdaq "MSFT") is the worldwide leader in software, services and solutions that help people and businesses realize their full potential.
###