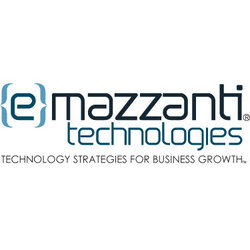 Driving such value to customers is as the core of both eMazzanti and Microsoft's business model, forming the foundation of this successful partnership
Hoboken, NJ (PRWEB) July 6, 2009
Today, eMazzanti Technologies, a leader in computer networking technology, announces its selection by Microsoft as the grand prize winner in Microsoft's "Driving Small Business Success" challenge. In recognition for eMazzanti's selection as the best customer success story submission, eMazzanti was awarded the Grand Prize. As the grand prize winner, eMazzanti will receive a Mercedes Benz Smart Fortwo Passion Coupe, a trip for ten to watch the highly anticipated NASCAR race at the Talladega Superspeedway, and the professional write up of a case study which highlights this success story. The challenge, which was exclusive to Microsoft partners, had thousands of entrants from across the United States. eMazzanti was chosen as the single best company out of these partners.
This will be the fifth time that eMazzanti is honored by Microsoft, a feat that displays eMazzanti's position as the top of its industry. Microsoft continually recognizes eMazzanti for its superior ability to bring value to its customers. eMazzanti's efforts were so well received that in addition to the grand prize, Microsoft chose to feature eMazzanti in a case study to serve as a model for other businesses to follow. One such example was eMazzanti's ability to increase productivity for one of its clients: Dewey Pegno & Kramarsky, LLP (DPK).
Steve Kramarsky of Dewey Pegno and Kramarsky said, "Buying the hardware, software and licenses, and hiring eMazzanti Technologies to configure and support the systems represented a substantial investment; but that investment has more than paid for itself by allowing us to do more with the resources we have and to serve our clients better and more efficiently.".
eMazzanti was able to recognize the needs of Dewey Pegno & Kramarsky, LLP and rapidly develop a cost-effective solution using the Microsoft family of products. Limitations that DPK faced prior to the services provided by eMazzanti were existent on both the hardware and software level. Lack of remote access had attorneys tied to their desks. Furthermore, in the event of a disaster, no failsafe solution was implemented to ensure continuity. eMazzanti implemented its flat rate eCare Services portfolio, network management, virtualization implementation for seamless disaster recovery, and standardized hardware/software to achieve an effective solution for DPK at an excellent price point. The end result is a tremendous increase in productivity and security for DPK. Lawyers can now access their work from anywhere at any time, have increased access to email and do so with the peace of mind that their data is safe. Post eMazzanti's services, DPK reported a 30% and up growth in billable hours, credited to the flexibility of remote access and limited technical related issues. "Driving such value to customers is as the core of both eMazzanti and Microsoft's business model, forming the foundation of this successful partnership", said Jennifer Mazzanti, President of eMazzanti Technologies. "It is only fitting that the grand prize is a Smart Car as eMazzanti continues to drive value for its customers in big ways," continued Mazzanti.
eMazzanti's dedication to the customer and the quality of its service has yielded a pattern of success that always gains the attention of Microsoft and its customers. Winning the "Driving Small Business Success" challenge is the latest achievement on an already long line of accomplishments and recognitions.
About eMazzanti Technologies
eMazzanti Technologies works with businesses to provide strategies for growth through the use of intelligent technology tools. From business process analysis to network design, security planning to preventative maintenance, the firm's services all aim to reduce costs, mitigate risk and drive revenue for our clients. eMazzanti also offers an extensive portfolio of network products from the leading technology manufacturers. The best advocates for eMazzanti Technologies are our clients. The firm services businesses throughout the New York Metropolitan area and in 3 countries worldwide ranging from home office environments to multinational corporations with mission-critical needs. These organizations rely on eMazzanti as their technology management partner. As our clients grow and their needs change, our flexible, scalable model adapts to meet the aspirations of their businesses. We form long-term relationships with clients that value stability and reliability in their IT partners. An innovative and comprehensive approach to technology services has earned eMazzanti the trust of a rapidly growing client base and recognition by many of the industry's foremost publications. For more information, please visit http://www.emazzanti.net.
###