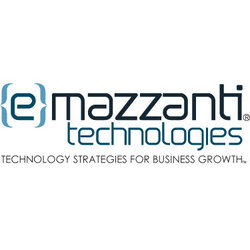 We are honored at the opportunity Microsoft has provided our firm and our customers
Hoboken, NJ (PRWEB) July 9, 2009
eMazzanti Technologies announces today that Carl Mazzanti will be joining the speakers at the Microsoft Worldwide Partner Conference (WPC). Taking place in New Orleans, the WPC is a forum for the latest Microsoft products, programs, strategies, and cutting-edge technologies. Thousands of decision-making partners and Microsoft experts from across the globe will be in attendance to prepare for and to take advantage of new business opportunities, new business development strategies, and innovative solutions. eMazzanti Technologies was chosen to contribute due to their excellence in using Microsoft technology in innovative ways to deploy integrated solutions that serve customers in the small-to-midsize-business market segment.
"We are honored at the opportunity Microsoft has provided our firm and our customers", said Jennifer Mazzanti, President of eMazzanti Technologies. "With each engagement our ability to service the mutual customers of eMazzanti and Microsoft improves. While there will be thousands of different Microsoft partners at the conference, the opportunity to go on stage is only reserved for a few. This opportunity is a testament to my firm, eMazzanti Technologies, as a networking powerhouse in the Americas," continued Mazzanti.
Ivonne Perrig, a Windows Client Small Business Senior Marketing Manager at Microsoft Corporation, commented, "It is always exciting to have a partner such as Carl Mazzanti join us at the Worldwide Partner Conference. We will have the opportunity to hear from Carl about eMazzanti Technologies' early experience with Windows 7 as part of the Small Business Ignite Program. I believe there is much everyone can learn from Carl's innovative approach to applying the benefits of Windows 7 to his network management expertise." Carl will showcase how eMazzanti Technologies uses Microsoft products to provide creative ways for small or midsize businesses to better connect with customers, other business professionals, and between staff. Additionally, Windows 7 configured by eMazzanti will enhance business processes, productivity, security, and IT infrastructure management.
Speaking at the Microsoft Worldwide Partner Conference is great for eMazzanti and its customers. A venue such as WPC enables the firm to share with the community its experience in network management. eMazzanti takes pride in sharing how its success helps foster client success; with publicly available customer success stories and videos, eMazzanti offers anyone the opportunity to learn from their customer achievements. It is clear that those in attendance at New Orleans will walk away with the same perspective on network management that many who have partnered with eMazzanti Technologies already have.
About eMazzanti Technologies
eMazzanti Technologies works with businesses to provide strategies for growth through the use of intelligent technology tools. From business process analysis to network design, security planning to preventative maintenance, the firm's services all aim to reduce costs, mitigate risk and drive revenue for our clients. eMazzanti also offers an extensive portfolio of network products from the leading technology manufacturers. The best advocates for eMazzanti Technologies are our clients. The firm services businesses throughout the New York Metropolitan area and in 3 countries worldwide ranging from home office environments to multinational corporations with mission-critical needs. These organizations rely on eMazzanti as their technology management partner. As our clients grow and their needs change, our flexible, scalable model adapts to meet the aspirations of their businesses. We form long-term relationships with clients that value stability and reliability in their IT partners. An innovative and comprehensive approach to technology services has earned eMazzanti the trust of a rapidly growing client base and recognition by many of the industry's foremost publications. For more information, please visit emazzanti.net. All product and company names herein may be trademarks of their respective owners.
For more information: Jennifer, eMazzanti Technologies, 201.360.4446
# # #