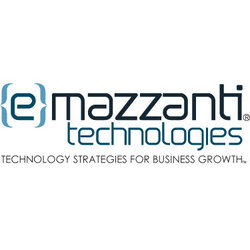 eMazzanti has demonstrated a unique best practice that has given them a competitive advantage
Hoboken, NJ (PRWEB) July 24, 2007
The New York Enterprise Report recently announced the best practice finalists for the 2007 Small Business Awards. eMazzanti Technologies a Hoboken-based computer networking firm was selected as a finalist in the category of Technology.
"eMazzanti has demonstrated a unique best practice that has given them a competitive advantage," said Robert Levin, Editor-in-Chief & Publisher of The New York Enterprise Report. "We are proud to recognize them as finalists of the Small Business Awards."
21 finalists throughout the tri-state area were chosen out of dozens of applications for each category. They were chosen for their ability to demonstrate the use of a best practice to generate competitive advantages, revenue profits and/or long-term value.
The Best Practice winners will be announced at the New York Enterprise Report Small Business Awards Gala. Five small businesses will be rewarded for their best practices and accomplishments in the areas of Human Resources, Marketing, Leadership, Sales and Technology. In addition, the New York Enterprise Report Small Business Awards will honor some of the tri-state area's most dedicated and well-known supporters and advocates of the small business community. The Small Business Awards Gala, which attracts some of the fastest growing small business and other centers of influence, has also been referred to by past attendees as the "networking event of the year."
"eMazzanti's corporate philosophy is to reduce cost, mitigate risk and drive revenue for all of its clients. The New York Enterprise Report's finalist selection is a public assertion of eMazzanti's efforts to use technology for the betterment of our customers," said Jennifer Mazzanti, President of eMazzanti Technologies.
ABOUT EMAZZANTI TECHNOLOGIES
eMazzanti Technologies works with businesses to provide strategies for growth through the use of intelligent technology tools. From business process analysis to network design, security planning to preventative maintenance, the firm's services all aim to reduce costs, mitigate risk and drive revenue for our clients. eMazzanti also offers an extensive portfolio of network products from the leading technology manufacturers. The best advocates for eMazzanti Technologies are our clients. The firm services businesses throughout the New York Metropolitan area and in 3 countries worldwide ranging from home office environments to multinational corporations with mission-critical needs. These organizations rely on eMazzanti as their technology management partner. As our clients grow and their needs change, our flexible, scalable model adapts to meet the aspirations of their businesses. We form long-term relationships with clients that value stability and reliability in their IT partners. An innovative and comprehensive approach to technology services has earned eMazzanti the trust of a rapidly growing client base and recognition by many of the industry's foremost publications. For more information, please visit emazzanti.net.
About The New York Enterprise Report
The New York Enterprise Report, in print and online (nyreport.com), is the media company that exclusively serves tri-state area small business decision makers. Featuring award-winning "how-to" articles written by experts, each issue of The Report provides critical ideas and solutions, making it a must read for those looking to grow their businesses.
###