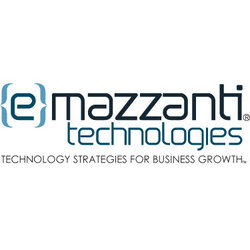 With the Windows 7 Small Business Ignite Program and through skilled and committed partners like eMazzanti, we are providing small businesses with the opportunity to test-drive the Windows 7 Beta - giving them experience with technology that can help them maximize productivity and expand business capabilities
Hoboken, NJ (PRWEB) March 22, 2009
eMazzanti Technologies, Technology Strategies for Business Growth, today announced participation in the Windows 7 Small Business Ignite Program. As part of this program, eMazzanti Technologies will work with small businesses to test drive Microsoft's upcoming operating system, Windows 7. By design, Windows 7 Professional is designed to help small businesses work faster and more reliably, make everyday tasks easier and better safeguard their businesses. eMazzanti Technologies was eligible to participate based on its status as Microsoft Gold Certified Partner and Microsoft Small Business Specialist.
"With the Windows 7 Small Business Ignite Program and through skilled and committed partners like eMazzanti, we are providing small businesses with the opportunity to test-drive the Windows 7 Beta - giving them experience with technology that can help them maximize productivity and expand business capabilities," said Ivonne Perrig, Windows Client Small Business Senior Marketing Manager at Microsoft Corporation.
"Customers want control over ways to save time, reduce costs, and improve productivity, said Jennifer Mazzanti, President of eMazzanti Technologies. "We're excited to participate in this program so our customers can test drive Windows 7 and see first-hand how it will positively impact their business. By working closely with Microsoft, we assure our customers that eMazzanti is adding maximum value to their Microsoft investment today and in the future."
Selection of eMazzanti into the Windows 7 Small Business Ignite Program is a credit to eMazzanti's expertise and a win for our mutual customers. As one of the first companies to beta test Windows 7, eMazzanti has had a unique opportunity to test and explore it's enhancements. The Microsoft Windows 7 Small Business Ignite Program will help eMazzanti to assist customers that are committed to deploying Windows 7 when it is released.
Participation in the program provides eMazzanti Technologies with deployment assistance including services, training, and technical support. There will be approximately 40 partners worldwide and just under a 100 companies worldwide participating in the program. eMazzanti Technologies expects to benefit from the program's assistance in building a migration plan for customers' machines, testing applications, and early access to code. eMazzanti also expects participation to provide an early adoption experience of new features available in Windows 7 Professional to help small and lower mid-market companies prepare to leverage networking, backup, security for multiple PCs or servers.
"We at Microsoft are happy to have a company of eMazzanti's quality participating and look forward to working closely with the eMazzanti team to ensure Microsoft's products meet the needs of our partners and customers," continued Perrig.
As a Windows 7 Small Business Ignite Program participant, eMazzanti Technologies and its participating customers have access to Microsoft technical support available to those partners and customers accepted into this program. This support also enables eMazzanti to implement the advanced features offered by the new software ahead of the industry.
"As one of the first Microsoft partners to successfully roll out and migrate customers to the Windows 7 platform, eMazzanti has had a unique opportunity to test and explore its enhancements in a proactive manner," said Mazzanti. "We look forward to the official product launch and working with the rest of our clients to deploy the next generation server operating system."
About eMazzanti Technologies
eMazzanti Technologies works with businesses to provide strategies for growth through the use of intelligent technology tools. From business process analysis to network design, security planning to preventative maintenance, the firm's services all aim to reduce costs, mitigate risk and drive revenue for our clients. eMazzanti also offers an extensive portfolio of network products from the leading technology manufacturers. The best advocates for eMazzanti Technologies are our clients. The firm services businesses throughout the New York Metropolitan area and in 3 countries worldwide ranging from home office environments to multinational corporations with mission-critical needs. These organizations rely on eMazzanti as their technology management partner. As our clients grow and their needs change, our flexible, scalable model adapts to meet the aspirations of their businesses. We form long-term relationships with clients that value stability and reliability in their IT partners. An innovative and comprehensive approach to technology services has earned eMazzanti the trust of a rapidly growing client base and recognition by many of the industry's foremost publications. For more information, please visit emazzanti.net.
###