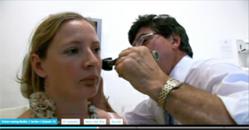 Accurate diagnosis of a patient suffering from dizziness is essential for optimum management and requires sophisticated hearing and balance tests. - Dr Gerald Brookes
London, UK (PRWEB UK) 28 October 2011
Dr Gerald Brookes is one of Britain's top ENT specialists with over 20 years' experience under his belt. The Embarrassing Bodies team approached him with a view to help Adele, 36, who was so dramatically affected by dizziness and a lack of coordination that she could barely function. She told programme makers: "I have severe balance and dizziness problems and I feel as if I'm drunk and disorientated all the time."
Clearly distressed, Adele had already seen a GP who'd prescribed her medication but her problems persisted. Having been brought on board, Dr Brookes ran through several extensive tests with the patient. He provided cutting-edge computerised analyses of activity in her inner ears, neck, brain and bloodstream at The Harley Street ENT Clinic. In doing so, he was able to make an accurate diagnosis. He found Adele was suffering from a type of migraine affecting the balance part of her brain. In this condition, which is called Basilar Migraine, the inner ear, balance and brain systems checks are fine, but there is a variable lack of oxygenated blood getting to the brain's central balance computer.
After being correctly diagnosed, Adele is now undergoing treatment with a combination of medication, dietary changes and physiotherapy.
More about Dizziness and Imbalance
There are many different causes of dizziness and imbalance. The problem may often be in the inner ear, but may also lie in the brain, eyes, neck, heart, muscles, joints or the blood and nervous systems. Most conditions are not serious and in many instances resolve quickly and completely with appropriate treatment. Persisting symptoms, however, can cause major disability affecting every aspect of a person's life. Due to the very wide range of possible causes, medical assessment is not straightforward. As the inner ear consists of a hearing organ (cochlea) and balance organ (labyrinth), sophisticated hearing and balance tests are invariably necessary to pinpoint the underlying disorder.
Primary management is usually medical, consisting of dietary and drug treatment or physiotherapy exercises designed to "re-calibrate" the balance system. Sometimes re-positioning treatment is required to resolve different types of positional dizziness. Surgical interventions are infrequent but can still be very effective in abolishing disabling symptoms.
About The Harley Street ENT Clinic
The Harley Street ENT Clinic in London is UK's foremost private medical centre dedicated to providing high quality care for all ear, nose, throat, head & neck and balance related disorders. It also has an in-house state of the art diagnostic laboratory capable of carrying out comprehensive and specialised hearing, balance, facial, voice, laryngeal, nasal, olfactory, airway, allergy and sleep investigations.
###